TRIP JOURNAL
Wednesday 14th February
Valentine's Day today, and the girls got Pete a lovely card. Pete forgot. Do they have Valentine's Day in Australia? Apparently they do. Whoops. Never mind, what could be more romantic than waking up in the middle of beautiful rainforest? Except maybe flowers, or a card, or even just remembering.
Today the rainforest had decided to live up to its name – it was proper raining. Not to worry, we donned our wet weather gear (which we've been keeping close since we got to Australia), and set off on a lovely treetop walk. The kind people in O'Reilly's have built a nice boardwalk through the forest that leads you around various interesting things and explains a little bit about each. One of the most interesting was a fir tree which begins to grow from a seed on top of another 'host' tree. Over a number years it drops roots all the way down to ground level. Once it has a proper root system, it grows more quickly and the roots thicken. Eventually, the host tree is completely covered by the fir tree and is effectively strangled, or suffocated, or starved (they didn't exactly explain in detail). Anyway, the host tree dies, and the fir tree takes over its place and continues to thrive above it. The host tree then rots away and leaves a hollow in the base of the fir tree. One example of this that we saw had a hollow large enough to climb in. A great photo opportunity not to be missed, but they were a bit spooky.
Next stop along the boardwalk was The Lookout – a tiny platform way up in the canopy of the forest, reached by climbing two enormous ladders. The top platform was about 40m above the ground. First up was Sophie: not at all bothered by the height, or by the large snake coiled on a branch next to the ladder. Next came Non, not bothered about the height or the snake, but slightly bothered about Sophie. Third up was Alice: not bothered about anything – "I'm going to the top I am, like Sophie. I'm good at climbing ladders". Last of all came Pete: very bothered about the height, the snake, Sophie, and most of all Alice, who was small enough to slip right through the rungs of the ladder. Who knows what you could see from the top (probably some more trees), but it was great to get down again.
Before we finished our rainforest walk, we took a detour through the Orchid Gardens that the family have cultivated over the years. The plants were lovely, but the most memorable thing was the ENORMOUS snake we saw on the path. Thankfully, it soon slithered away when Sophie ran up to it and gave it the paparazzi treatment.
We were about done with the rainforest. We had a date with a Giant Swing. When we came out of the rainforest, we went for a big buffet lunch as we decided we'd earned it. Also, it's probably better to have a full stomach when you're launching yourself on a 10m swing: there's nothing worse than a dry heave. We met up with our party for the Giant Swing in the lobby: there was only one other Australian couple doing it. Our tour leader (Ranger something or other) had all the safety equipment and we boarded our bus (a 1950's Mercedes). Fifteen minutes later, he'd managed to start the bus and we were on our way. Our lives were in this man's hands, and he couldn't even start an engine. The butterflies in our tummies were bigger than any we'd seen in the rainforest, particularly when we saw the swing and realised that this guy had to assemble half of it himself. Yikes.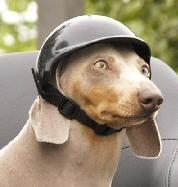 Preparing for The Giant Swing
In the true spirit of Britishness, we let the local couple have the first few goes. In this way, we appeared polite and kind while we secretly used them as guinea pigs. Some parts of the Empire still remain. It seemed everything was working fine, so we donned the safety harnesses and crash helmets (why we had to wear these we're not sure – they really wouldn't help much if you flew 30m down the hill when the rope snapped). Imagine if Tarzan had had to wear all this safety nonsense when he went swinging through the jungle. He'd never have protected the elephant's graveyard from the evil white hunters: he wouldn't have got there in time for a start, and then all the animals would have just looked at him in his loin cloth and bright yellow plastic hat and wet themselves laughing.
In turn, (Pete, then Non, then Sophie) we were each attached to the swing, and then pulled to the full height by a large electric winch, so the swing was virtually horizontal. The third-worst bit was hanging there (the safety harness was particularly uncomfortable at this point) before the swing was released. The second-worst bit was the free fall before all the slack came out of the swing (about 10ft). The absolute worst bit of the whole thing though, was the moment when the slack did come out of the swing, after the first 10ft vertical drop. At this point the safety harness metamorphosised into some kind of cruel torture device, designed to cut off the circulation in all the most vital areas. Non and Pete had one go each. Sophie had two! Even Alice had a go, although she didn't get winched up to the top.
Our big lunch had served us all well, but we decided we needed a top-up before we left O'Reilly's, so we headed back to the house and nibbled a lovely afternoon tea. Our final activity was feeding some parrots (and the odd Bush Turkey) on the lawns. We also let them poo on us, which was great fun – thoroughly recommended. There's nothing better when you're about to sit in the car for two hours than for everyone to get thoroughly coated in guano.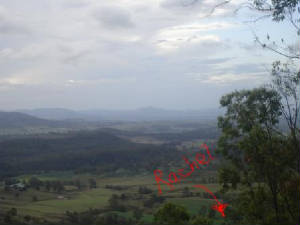 The Tweed Valley
The drive down the mountain was as scary as going up, but didn't seem to take as long, probably because we'd stopped a few times on the way up for photos. On the way down, we stopped only once, at a nice lookout spot where we thought we'd get a great view across the valley. Non jumped out of the car while the rest of us waited. She wandered over to where another car was parked, as this seemed the best vantage point. As she got closer, the man who had obviously been driving the other car whispered in a loud voice, "Rachel, someone's coming!". Non took a very quick photo of the view across the valley, while Rachel pulled up her pants and scrambled back up to her car red faced. When we get home, we'll frame that picture.
Tonight we headed to Surfers' Paradise and spent quite a while looking for a hotel. We eventually settled on the Holiday Inn as we were getting quite tired and it looked quite nice. Mistake. It was a dump. They sent us to the wrong room 3 times, apparently expecting the four of us to sleep in one big bed. As compensation, they offered us free breakfast tomorrow, so it wasn't all bad.
For dinner, the concierge in the Holiday Inn recommended an area in the south of Surfers' where there are loads of restaurants. Unfortunately, they all seem to be Italian's, and we didn't fancy Italian. We finally settled on an Indian, where we dined al fresco (on the pavement by a rather busy road). To further enhance the romance levels, and possibly make up a little bit for forgetting the date, Non and Pete enjoyed a nice bottle of Moet. What better place to drink champagne?
Tuesday 13th February
For breakfast today, we drove down the coast a way to The Beach Café, and went for a paddle and watched the surfers on
Clarkes
Beach
. Pete unintentionally made use of
Australia
's greatest invention, plastic money, when a surprise wave caught him out. The Australians haven't yet invented waterproof car beepers, so there was a mild moment of fear on return to the car, but it seemed to work ok.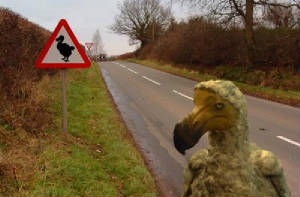 Caution: Dodos crossing!
Before we left the area, we headed to Cape Byron, where a lighthouse marks the most easterly point of mainland Australia. We were rather late to watch the dawn, but we'd been told that dolphins are often seen near here. We always take these claims with a pinch of salt: most of the roads in Northern England have signs saying you might see deer, but nobody's ever seen one. They may as well say 'Caution: Dodos'. Anyway, we put on some dry clothes and drove up the hill to the lighthouse. We parked a couple of hundred metres below the lighthouse as it was free. Pete tied his wet shorts to the roof, and we set off.
The lighthouse was tall, white and round, with a light at the top, just as you'd imagine. Nothing too exciting there. We wanted to make it to the most easterly point though, so we set off on the short walk (~100m) along the cliffs. As we set off, Non pointed out the darkening horizon; it looked like we might be in for more rain later. We took a few photographs at nice lookout points and continued down the path.
Those clouds must have been motoring: we were about 10m short of the most easterly point when it started pouring down. Not just raining, but a full-on downpour. We couldn't turn back now, we ran the last 10m and got some photos at the eastern edge of Australia, with us all looking decidedly drenched. We were so wet, it wasn't even worth running back: we couldn't get any wetter. It was unbelievable. We weren't this wet when we came out of the sea. Pete's dry clothes hadn't lasted long, and the car beeper was being tested again. Non and the girls waited undercover by the lighthouse while Pete went to fetch the car. The shorts tied to the roof hadn't dried too much. We sat on towels for the rest of the journey.
As we finally left New South Wales behind, and entered Queensland, we stopped off for petrol. Pete managed to put the wrong fuel in the car. In Australia, green pumps aren't unleaded like in the UK. Here, Unleaded is in the yellow pumps. Oops. The car didn't seem to mind too much though, after a top up with the right stuff. The garage attendant had a good laugh though.
We were on our way to Lamington National Park, one of the biggest in Australia, where we'd be staying in the middle of the rainforest. The O'Reilly's resort is famous in Australia: several members of the O'Reilly clan bought shares in some land around a century ago, when the Queensland government put it up for sale. Years later, the government decided to create the national park, but the O'Reilly's wouldn't budge. They now own a sizeable piece of land, slap bang in the middle of the national park, and they've done very well out of it.
When they first opened the guesthouse, it would take guests several days to get there, with part of the journey necessarily being made on horseback. It now takes a couple of hours, but it's still quite a journey. The road is unbelievably tortuous, winding round and round up the incline of Green Mountain. It reminded us of the bus journey up the Pyrenees for Andorran skiing trips, thinking we were going to roll all the way to the bottom around each bend. We were very glad we weren't travelling in a bus today. Pete was driving, but Non was helping with the braking: it's a good job we'd hired a car with a second brake mounted somewhere on the passenger door. We stopped a couple of times to admire the view, once to photograph a passing kangaroo, and once more to be eaten alive by a nest of red ants.
We were exhausted by the time we reached O'Reilly's. Not to worry though, we had bunk beds again (yippee!) and it wasn't long until dinner. We made our way to the bar and had some pre-dinner drinks while perusing the menu. However, when we tried to order some food, we were told dinner wasn't available until after . It was . Were we in the Twilight Zone? Was Jeremy Beadle hiding behind the bar wearing a silly beard as disguise? Pete's puzzled expression obviously said it all. The barman enquired if we'd driven up from
New South Wales
– it turns out there's a 1 hour time difference, and we didn't know a thing about it! How embarrassing. We retired downstairs to the Games Room for a few games of table tennis before dinner was really served.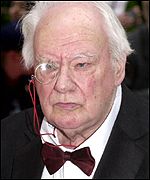 Patrick Moore: Glow-worm Hunter

After a lovely, but rather late, dinner we met up with one of the park rangers in the lobby, who issued us with big torches. We were going out to hunt glow-worms! Well, maybe not hunt them, but hunt for them at least. We made our way down a steep hill with a few other people, in bus from the 1930s and alighted in a small clearing in the forest. The first thing we noticed was the darkness. With our torches off it was true pitch black, and the ranger pointed out some of the major constellations in the night sky. There were a few clouds though, so we couldn't quite see the Southern Cross. After his Patrick Moore impression, we set off into the forest. It was late and Alice was tired, to Pete had to carry her. Non and Sophie went ahead with their torches. After about 38 milliseconds, Alice fell asleep, and snored all the way through the forest.

Along the way, the ranger pointed out a few animals, like sleeping birds in the trees. How he spotted them, we're not quite sure. After about a 10 minute walk, he asked us to switch off our torches again as approached a creek. As our eyes adjusted, we saw quite a strong glow from the opposite bank – the glow worms! They were really quite bright. The ranger explained that they weren't actually worms at all, but the larvae of flies. They live on moist banks and tend to co-exist with spiders. The spiders act as a level of protection for the glow worms, and in return the glow-worms glow to attract unsuspecting insects into the spiders' webs. It's a form of animal bartering really.

Everyone on the walk was in awe of the glow-worms, we all sat silently for a good 10 minutes, just staring at them. Occasionally, the ranger would ask if we'd seen enough, but nobody replied, so we just continued to sit and stare. It was lovely and peaceful in the rainforest at night. We heard the odd rustle of something moving around in the trees (we did see one or two possums), but mostly we could just hear the glow-worms snoring. Or was that Alice?

Monday 12th February

There was heavy rain in

Coffs Harbour

when we woke up. We didn't mind, we were off to watch a Dolphin show at the local Pet Porpoise Pool (a curious name, seeing as they've never had porpoises there – apparently the place pre-dates the decision to class dolphins and porpoises separately). We made sure we had our raincoats on, and ducked into the small grandstand just before the main show started. It was only a small place, but the show was really good. The people running the show did a great job, despite the downpour, and they made sure everybody was involved (and wet). Non was asked to hold a piece of fish high over the pool for one dolphin to jump for, and Sophie and Alice had to brush another dolphin's teeth.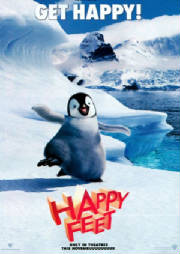 They can't all dance apparently
After the show, there was also plenty of opportunity to pet the dolphins, and the kids really enjoyed it. Sophie fell in love with the dolphins. We then wandered around the park and saw turtles, small sharks and seals. We also got to feed some tiny little penguins, which were really cute, but apparently couldn't dance. This was only a minor disappointment.
After a spot of shopping in Coffs Harbour, we went to visit the first of the Big Things on our tour. Australia is full of Big Things: giant roadside attractions somehow related to the local area. Coffs Harbour has a Big Banana, as this is their major local industry (hence the 'Bananatown Motel'). The Big Banana was very big for a banana – you could walk through it – but it wasn't quite as big as we expected. They seemed to have made the most of it though; every possible marketing opportunity had been exploited to the full. The café had bananas prepared in every possible way – we succumbed and went for banana crepe with chocolate sauce.
Before leaving the Big Banana, Pete bought a Map of Big Things, so we'd know where to see other enormous fruits (and other stuff). We also purchased hats. Sophie and Alice got new waterproof sun hats, as Sophie's was still in Phuket, Sophie got a pink cowboy hat and Pete got a proper Aussie outback hat, modelled exactly in the style of the guy from the film Wolf Creek (essential viewing for anyone planning a trip around Australia). Now looking great, we left Bananatown and headed north, for
Byron
Bay
.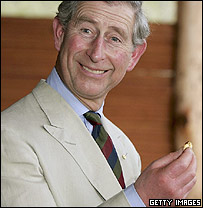 HRH didn't eat them either
Along the road there was an aboriginal centre that included a bush tucker café. Having watched several series of I'm A Celebrity…, Non and Pete thought this would be good fun. Unfortunately, it had closed for the day. Well it was – who'd want to visit a café at that time?! Secretly, we weren't too disappointed. We had some biscuits in the car and they were rather more palatable than witchetty grubs and kangaroo penis.
We carried on until Non spotted a Big Prawn by the roadside – our second Big Thing. It was a good 2m high and stuck on the top of a café. We skidded into the car park, got some quick photos, and set off again before we could be dragged inside – we didn't want to take advantage, we just don't like shellfish.
Our final destination today was Byron Bay, further up the coast. It's a beautiful place that used to be a major hippy town, so it has a very relaxed feel. It's now a serious tourist resort, although it still has a very small town atmosphere, and most people you see are surfers or backpackers. We drove around until we found some nice apartments near the beach, but it was getting dark by now, so we dumped our stuff, got changed and went straight out for dinner.
We found a restaurant that did amazing pizzas. These weren't Margarita and Hawaiian, these were truly original. Pete chose a 'Number 14', so named because there used to be only 13 pizzas on the menu before this one was invented. It contained everything, including a lot of chilli peppers. These were the best pizzas of the trip by far. Sophie and Alice made a friend in the restaurant. There was a little girl out with her mom and a couple that appeared to be her grandparents. Once she started speaking, she didn't stop. Sophie said afterwards that she couldn't get a word in. Non and Pete enjoyed the distraction for the kids.
Everyone in
Australia
is amazingly friendly; it continues to surprise us. The mother of the girls' new friend turned around to our table and started chatting. She told us all kinds of interesting things. Scratch that. She told us one thing over and over again. She was plastered. Her boyfriend had helped build the new Wembley (she denied it was his fault it was late – he only did the carpets). She also asked us if we'd seen the mechanical elephants in
London
. We just stared at her. She'd been there quite recently and seen mechanical elephants walking down the street. We asked the waitress for the bill. She asked for our phone numbers and email so she could send us pictures of the mechanical elephants. We held our smiles and pulled the kids away. Yes, Aussies are friendly, but they can't handle alcohol, and they're not all necessarily sane.
Sunday 11th February
Breakfast in the cabin was as good as dinner the previous evening. We'd stocked up on all the breakfast essentials and had a veritable feast before we made a move. First stop was a vineyard as we hadn't really seen one yet. We spent some time with a local expert in a tasting room discussing the local growing conditions and grape varieties, etc. Oh, we also slurped some wine, as noisily as we could manage. Sophie and Alice thought this was hilarious, but soon got bored as they weren't allowed to play. We decided to skip the vineyard tour as we'd done one before, and it's probably roughly the same. We just stocked up on a few select bottles and made tracks.
We were on a mission. The one thing we remembered from last night's late 'planning session' was that we were headed for Coffs Harbour, possibly via one or two nice looking beaches if we had time. There was no time to lose. We filled the car with petrol, set up the DVD player for the kids and hit the road.
There are a lot of speed cameras in
Australia
; probably almost as many as the
UK
. They're not painted yellow either. We won't find out if any of them spotted us until we drop the car off in
Cairns
presumably. Australians do drive very slowly though, it's exceedingly frustrating. The main highways are hugely long and straight with hardly any traffic and great visibility, yet you often find yourselves dawdling along at 80 km/h (50 mph) for no good reason.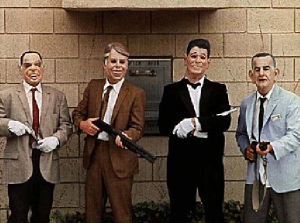 The Ex-Presidents
Anyway, we found our way, via a little more off-roading, to our first waypoint: Seal Rocks. This is a beautiful little cove, much loved by surfers and sunbathers alike, although it was pretty quiet. Somebody mentioned this was the place where Keanu Reeves's surf classic 'Point Break' was filmed, but we didn't see him, Patrick Swayze or any of the 'Ex-Presidents'. We'd made ourselves a picnic, and enjoyed it on the beach before fighting in vain against tonnes and tonnes of water trying to knock us over. We didn't bother getting changed again, but just had a quick shower and jumped in the car for the next spot: Forster.
Forster and Tuncurry are twin towns either side of an estuary. Both are a little sleepy, but they have a nice location. Lots of people were enjoying the estuary on hired boats and in swimming enclosures. We joined them. We spent the remainder of the afternoon sunbathing, swimming and playing on the playground, until everything closed suddenly at , while the sun was still hot. Strange.
Anyway, we needed to make a move, we still had a couple of stops to make tonight. First was
Ellenborough
Falls
, an apparently impressive waterfall about 50km west of the
Pacific Highway
. Unfortunately, it wasn't listed in the
GPS
system, and wasn't marked on our map. We tried to find it by following signs, but there was only one, and that was still 30 km away. After that there was literally no sign of it. We realised again how lucky we were to have the
GPS
– otherwise we could have wasted a lot of time trying to find lots of different places like this. We eventually gave up on
Ellenborough
Falls
and headed back to the highway, but we'd wasted quite a lot of time. We didn't arrive in
Coffs
Harbour
until nearly and didn't have anything booked, so pulled into the bright yellow Bananatown Motel on the outskirts of town and took the cheapest family room they had. It was really cheap, and very basic but Sophie loved it – bunk beds!
Saturday 10th February
On the way out of Katoomba we picked up some croissants in of about 250 cafes we found in Katoomba High Street. If you don't own a café in Katoomba, you own a motel. This place is café city – everybody must spend their days drinking coffee to keep themselves busy, as there's nothing else to do once you've enjoyed the Blue Mountain views.
Before we left the Blue Mountains, we visited Scenic World which we decided would top off our tour. It did, and it was really good. First we went down the steepest railway in the world, running at an average 45o angle – it used to be used to carry coal when the area had a lot of mines. Now it's used to carry tourists down to a rather well designed exhibition of mining and the forests. Apparently, when the railway was first opened to tourists, a visiting dignitary asked the operator if the train was safe. The operator replied, straight faced, that if the cable broke, the train would stop within 3 seconds. The dignitary seemed happy with that, so he didn't elaborate on how, or where it would stop. To get back up the hill after a walk through the forest, we took a cable car. This time we weren't quite so scared, so we got to look at the views a little more, which were really impressive.
The final part of Scenic World was another cable car, this time moving horizontally across the top of the valley, offering unbelievable views straight down several hundred feet. As the cable car left one end, we stood on frosted glass, but as we got further away, the frosting cleared (it was done using liquid crystal sheets inside the glass) and we had a perfect view straight down through the floor – it was a little unnerving, but really impressive. As we left, Pete asked why they bothered frosting the glass when the cable car was at either end. The operator laughed and explained that the cable car passed over walkways at either end: ladies in the cable car wearing skirts were generally pleased to have some frosting between them and the people below.
We headed out of the Blue Mountains after Scenic World, stopping only for some quick nosh at the Imperial Hotel in Mount Victoria, as recommended in our Rough Guide to Australia. Perhaps there's been a change of management since it was written.
It was a scorching hot day today, and we had a long drive from the Blue Mountains to our next destination, the Hunter Valley wine region. Roads in Australia don't go directly between places – there aren't enough roads – so we had to head back to the coast, north up the highway and then back inland again towards the Hunter Valley. En route, we passed the impressive Hawkesbury River, as it took a lazy turn near Windsor. Non decided it would be good for a swim, so we all got out and went to cool off. We still had a fair distance to drive, so we rang ahead and booked a room before it got too late. We were going to stay in a little cabin in Pokolbin, the heart of the Hunter Valley. Before we went to Pokolbin, we stopped off at Cessnock, slightly further south to stock up on barbecue food to cook later.
This was our first supermarket trip in
Australia
, and we got a bit excited. We had enough food for a small army, and the kids got a doll each (
Alice
had left hers in
Thailand
). As we left the store, we looked up to see black clouds. They were immediately accompanied by thunder and lightning. The barbecue was looking dodgy. Not to worry, we could always cook it inside, and we should have some nice local wine to go with it. Except supermarkets in
Australia
don't sell alcohol. How weird is that!? We tried in vain to find a bottle shop in Cessnock, but gave up and headed for Pokolbin, thinking we'd just buy some wine from one of the many vineyards we'd be passing. Pah! It was . All the vineyards and associated cellar doors were closed. We couldn't get wine anywhere. We were driving through wine country, with a boot load of animal carcass, no wine, and it was pouring with rain and firing lightning bolts at us. We were a bit miserable.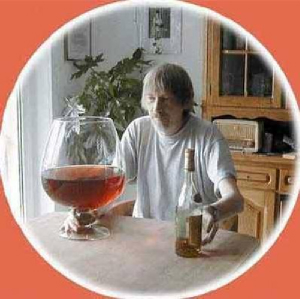 We only had time for 1 glass
We refused to be beaten though, and drove around the vineyards for the best part of an hour, before we found a cellar door still open. Eureka! We didn't care about the weather or the barbecue anymore, at least we had some vino. The cabin turned out to be really nice. Set back from the road about 100 yds, it was surrounded by trees – it looked like a hunting lodge. Non got to work in the kitchen and we had a superb indoor barbecue, with superb local wine to boot. It was still pouring down outside, but we didn't care. Life was great.
After the kids went to bed, Non and Pete decided they had better do a little more planning for the rest of the journey north. Today's trip had taken longer than expected, so we needed to calculate how far we'd travel each day before our next pre-booked hotel. This took us several hours of hard research and calculation, aided only by the
GPS
, our Rough Guide, a map and a couple of bottles of lovely red wine. Nobody could remember the detail of what we decided, but we felt we'd achieved something in any case.
Friday 9th February
Today was our last day in Sydney. We were setting off on the journey that would end in Cairns, 2870 km to the North. Except we weren't exactly going direct. First stop was Harry's Café de Wheels – the pie shop we'd missed in Woolloomooloo. Wow. This guy can make pies. Initially nobody wanted anything except Pete, who got a traditional Aussie meat pie, topped with a huge dollop of creamy mashed potato. The piece de resistance was a dip created in the top of the mashed potato, into which was poured delicious beef gravy. Mmmmm. Everybody ordered something after that, and we spent some quality time sat by the water's edge, happily munching and saying goodbye to Sydney.
Today's destination was the
Blue Mountains
National Park
, a few hours west of
Sydney
. No worries about getting lost, our
GPS
was our new best friend and we arrived at the outskirts of the park in record time. Our first stop was a tourist office in Glenbrook, where we gathered route maps and decided on the best things to see during our short visit. We settled on kangaroo spotting first of all, just south of Glenbrook, and we weren't disappointed – we spotted loads of them near a camping and picnic ground at Euroka Clearing, and spent a good while taking pictures and videos of the rather non-plussed beasts – our first marsupials.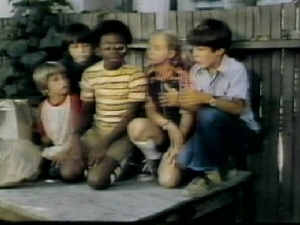 The Red Hand Gang
Next stop was the Red Hands Cave, which disappointingly has nothing to do with the Red Hand Gang from kids TV. This is an aboriginal cave boasting red hand paintings on the walls. To reach it, we had to do a spot of off-road driving, as the road wasn't made up. We had a 4WD, but we also had road tyres, so after the first skid around a bend, Pete was dully told to slow down. When the car could go no further, we followed a track down the hill for about 1km before we found the cave. The first paintings we saw on the rocks didn't look particularly aboriginal. Unless aborigines thousands of years ago really did have a soft spot for Scotland's football team. We moved on. The cave itself was remarkable, the aborigines used ochre mixed with various things to create different shades of red and obviously used this to create palm prints. More interestingly though, they also used their hands as stencils to paint around, and created white handprints. They probably didn't have aerosols, but it was as good as. They certainly did have steel, glass and toughened Perspex though, because they used this to seal up the cave to keep future tourists from destroying their art work. Lucky really, otherwise we might have found a tartan handprint in there too.
Further down the road at Leura, we took another walk to see the impressive Leura cascade (a series of small waterfalls). We could see the path continued further, but weren't sure if we wanted to follow it – the whole path was a full day's walk apparently. Sophie went on a scouting mission and came back to tell us we should go around the next bend. She was right: we were rewarded with a view across the Jamison Valley to the more distant peaks of the Blue Mountains – it was picture postcard stuff, almost on a par with the views across the Grand Canyon. The Blue Mountains get their name from the blue haze created by millions of eucalyptus trees, and we could really see it. Non and the kids celebrated our discovery by using the first outback toilets of the trip. These consist of proper porcelain toilets, with a hole underneath. The kids were very much amused, and Alice was very pleased she hadn't fallen in.
Our last stop for the day was Echo Point, another view point across the Jamison Valley, but also with a view of the famous Three Sisters – three precarious looking columns of rock above the valley. There used to be more sisters, but over time a few had eroded away or collapsed. After a spot of photo taken, we were suddenly swamped by a couple of tour buses full of people coming to share the same viewpoint: time to leave. Tonight was the first night of the holiday that we didn't have hotel bookings, so we drove to the local town of Katoomba in search of beds and some water for the horses. We settled on The Three Explorers Motel, mainly because it was available, and cheap. The room was actually not too bad either. Once settled, we ventured out to enjoy the culinary offerings of Katoomba, and it didn't take us long to settle on a pub. Mainly because there only appeared to be 2 pubs and no restaurants in the town, at least not open at such a late hour: .
The highlight of dinner was a bowl of carrots – we hadn't seen carrots since the
UK
. Everybody got very excited. Unfortunately, we had to leave in a bit of a hurry, after embarrassing ourselves in the pub quiz. Does anybody know the answer to this: "What is the opposite of crossed eyes?". We can tell you that the answer isn't crossed legs.
Thursday 8th February
We all did our stomach exercises this morning. We were off to Bondi Beach: home of the body beautiful. First, we had to collect the car from the Avis office – this was actually the first time we'd seen it. We had a nice big 4WD (we needed it for all our stuff), but we were a little disappointed that it was white. Who would buy a white car!?!?? Everybody in Australia. They're nearly all white, it's amazing. The only people who bother with a bit of colour are the boy racers. You don't even need a sporty car to be a boy racer in Australia, you just need a bit of colour - a blue car will make you stand out in Oz as much as a ridiculous fish-tail spoiler in the UK.
The best bit about the car was the profusion of power outlets. There weren't quite enough for all Pete's gadgets, but he'd brought adapters J. We plugged in: GPS system, phone charger, DVD player, USB adapter, iPod and FM transmitter. Now the car was ready to go! Actually, GPS was the best thing we brought with us: Sydney's one-way system is unbelievably complicated and if you find yourself in the wrong lane, you may end up going unexpectedly along a toll road. With TomTom, we got straight to Bondi without any hiccups, and more importantly without any arguments! This was a first while driving in a foreign country.
Bondi is a lovely long beach, but because the lifeguards bring the swimming flags close together when it's windy or the currents are strong, everybody gets a bit squashed up into a small area. We hired a coupe of beach towels and a sun shelter and set up camp in the middle of the swimming area and went to check the surfing conditions, or at least the wave jumping conditions. It was unbelievable - these were the strongest waves we'd ever seen. Sophie couldn't stand up in water as high as her waist – even small waves would just wash her away. The bigger waves could easily knock over Non and Pete. Perhaps having our first go on boogie boards was going to be a mistake…
We spent most of our time on Bondi enjoying being knocked over repeatedly by the surf. Sophie and Pete briefly tried the boogie board, but were pretty much useless. Even the locals weren't having much success. We finally settled on relaxing, sunbathing and people-watching, which is the primary activity at Bondi. Someone sat close to us was playing his guitar and it was all quite pleasant.
Late in the afternoon, we loaded the car up with as much sand as possible and headed back to
Rose
Bay
for our rescheduled sea-plane ride. Getting there was again a breeze – this
GPS
thing may just catch on. We had the only mildly annoying voice of an Australian guy telling us exactly where to turn and we got there in no time.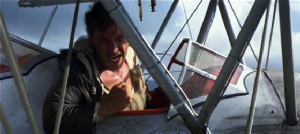 Indy in Seaplane
Sea-planes are straight out of Indiana Jones. We thought it would be the modern equivalent of the old bangers you see on films. It wasn't. It was the same plane that Indy used. It must have been built in 1936, when our pilot was in his forties! This was going to be an experience. After the precursory photos, we loaded up. The pilot and his mate sat up front, Pete and Sophie behind, with Non and Alice in the last 2 seats. We all donned huge 1930's headphones so we could hear the pilot giving us a bit of commentary. The plane was so noisy, the headphone's main purpose was ear protection.
Take-off was a little different to your normal jumbo jet. We bounced over the waves, trying to avoid the wake of other boats that could have thrown us – even the wake from a pedalo would have made this thing wobble. When we'd reached take-off speed (about 7mph), we cruised around a bit more until the pilot's cataracts cleared and he spotted a big wave to launch us. At least that's how it felt. The view was fantastic. First we flew over Manly and the northern coastline at the mouth of Sydney harbour. The pilot pointed out the first lighthouse on the Australian mainland, and he also pointed out the houses that were more than likely going to fall into the sea in the near future due to cliff erosion. Lovely!
At the modest altitude we reached, it was a bumpy ride all the way, and turning was particularly alarming – we banked right over and prayed the door latches were working properly. Non's tummy didn't enjoy the ride too much, and she went uncharacteristically quiet. Alice wasn't even bothering to look at the view – she was more than happy just sitting and listening to the headphones. She didn't really seem to notice where we were! Before the end of the flight, we did a circuit over the harbour bridge and opera house – finally we could get the last photos to complete our collection! Unfortunately, the pilot decided to turn at exactly the right point where it was impossible to get a good view of the opera house. Oh well, we'd have to make do.
We ended the day by visiting the next bay along from Rose Bay – Watsons Bay. It's a pleasant, small bay almost entirely taken over by Doyle's Hotel and three Doyle's restaurants. We chose the al fresco option and had lovely fish and chips and lager by the beach so that the kids could go and play while we watched. In the end, the kids just walked up and down to the restaurant the whole time –
Alice
didn't like the sand on her feet! Non and Pete enjoyed the food, and especially the lager, and spent some quality time chasing seagulls away from the table. A beautiful end to a beautiful day, and our sunburns are really coming along nicely now.
Wednesday 7th February
Sophie & Alice had the perfect start to today – we went to a park and played on the swings. You can forget your Opera Houses and Harbour Bridges, this got the highest level of excitement so far. It was free too, so we weren't complaining. After a quick ferry to Circular Quay, we walked around the harbour to The Rocks, an historic area where the original port buildings stood. It's now mainly trendy restaurants and expensive shops, but we enjoyed the walk. Again, there were lots of people jogging around the edge of the harbour and they had some amazing scenery (and weather). There's a beautiful little park almost under the Harbour Bridge looking out across Circular Quay to the Opera House. It's almost the optimum location in the whole of Sydney, but nobody's done anything crass with it. It's just an area of grass, with a few benches, where people can sit and enjoy the view – that would never happen at home.
One of the tourist highlights in Sydney is donning a boiler suit and climbing up the arch of the Harbour Bridge, shackled to gang of other tourists. It looked a bit hot for all that climbing, and the kids were too young anyway, so we settled for the Pylon Lookout. There's a concrete pylon at either end of the bridge, and although they look very sturdy, they're actually more aesthetic than functional. They also provide a good viewpoint if you climb up the inner steps. It was a long and sweaty climb (the temperature was over 30oC and Alice was being carried), but the views were worth it. Inside the pylon, you're also given an excellent insight into the history of the bridge: why it was built, how long it took, why that design was chosen etc. Annoyingly, it took many years to build the bridge and cost many times more than it should. We couldn't find mention of the name of the building firm, but we suspect it may be the same people who are now building Wembley.
Upon descent, we headed straight to a pub for a cold drink and a hot pizza. This recharged the batteries enough for us to make our way back to the ferry terminal and catch a boat to
Rose
Bay
– a rather upmarket suburb of north western
Sydney
. Here, we'd arranged to take a sea-plane flight over the city. Despite boarding numerous boats, riding buses, ascending gigantic towers, climbing bridges and thoroughly circumnavigating the place (both inside and outside), there were still some angles from which we hadn't taken pictures of the Opera House.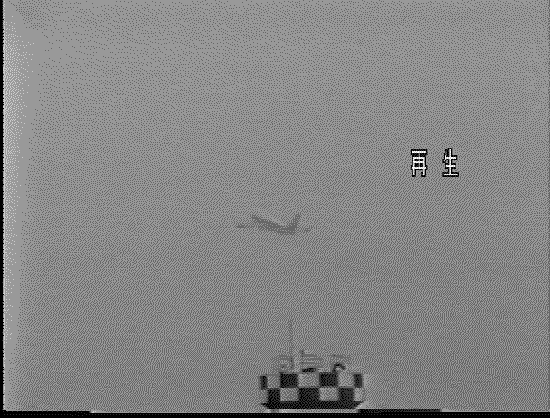 Lightning is fun in planes
We had a little wait before our scheduled flight, so we went to the playground around the corner – two in one day! This was almost as good as Christmas! Unfortunately, while we were there, the weather broke and the heavens opened. Quaint as the sea-planes looked, heavy rain, low cloud and thunder and lightning were perhaps not the best conditions in which to fly. The company called us and cancelled just 15 minutes before our flight.
Not to worry, this meant we could get back to the apartment earlier. The other thing we'd booked for today was a babysitter. The kids were going to have an evening of winding up somebody else while Non and Pete explored Sydney at night. We didn't get back quite as quickly as we thought though. Not used to so much rain, everybody in Sydney jumped immediately into their cars. It may have been that they wanted to escape, but it seemed more likely that they all knew a car is the safest place in an electrical storm, as they were certainly in no rush to get anywhere. We sat in traffic for around an hour before we got back to our apartment – the first time we'd noticed any issues at all with the Sydney transport system.
The babysitter was called Karen, and both Sophie and Alice seemed to like her – particularly when she brought them toys to play with, and some DVDs! Alice was a bit upset when we left, but Karen kindly sent us regular text messages to let us know they were both alright. For our part, we'd been told that Oxford Street was a good night out in Sydney, so we headed there first. Ignoring the strange looks from the taxi driver, we asked him to take us to the nice restaurants along that road. We couldn't find any. There were plenty of adult shops though, of all descriptions. More descriptions than we knew existed actually.
After a brief stroll, we hailed another cab and decided to try our luck in the Latin Quarter. Here we found a nice pub for a few drinks, but we weren't in the mood for Spanish food, and it was still rather quiet. We headed to Circular Quay, where we found a lovely Chinese restaurant by the harbour, that (finally!!!!) served a delicious crisply duck with pancakes. Yum. To follow that, we had a very authentic Chinese kangaroo recipe which was also good, and a fair amount of local vino. One great thing we've noticed is that Australian restaurants don't overcharge for wine. Local wines are great and sell in restaurants for around £8-10 per bottle. Many restaurants don't even have liquor licences and let you BYO – fantastic.
Next stop on the not-quite-comprehensive night-life tour was the '-5
o
' bar. Here they issue you with warm coats, hats and gloves and welcome you into a big deep freeze, where you can drink vodka in all kinds of varieties (no doubt all pretty horrible). Everything in the bar is sculpted from ice. Unfortunately, we just missed the -5 bar closing, as it was nearly . We had to settle for slurping cocktails in the main bar instead. This was probably for the best, as Pete's sunburn could have melted a fair bit of the ice bar.
Tuesday 6th February
The combination tickets we'd bought yesterday included a trip up Sydney Tower. The tower is the highest building in Sydney and offers 360o views of the city from the top. We spent quite a while identifying all the landmarks, including the Olympic park from Sydney 2000. At the top of the tower, they also have 'the highest working post box in Sydney', so we decided to send a couple of postcards (we wrote them in Thailand and had to put second stamps on them…).
After the viewing gallery, there's a second part to the Sydney Tower tour: OzTrek. This is a multimedia extravaganza designed to give visitors a taste of everything Australia has to offer, from the reef to the outback, beaches and cities, all without leaving the comfort of your armchair. It was pretty rubbish. Good job really, otherwise we needn't have bothered with the rest of our trip. The finale was slightly better – we were strapped into multimedia motion simulation chairs and took a 'flight' around the various areas of Australia. Pretty rubbish again, but at least the kids enjoyed being thrown around in their seats.
That was about as much contrived tourist nonsense as we could stand so we decided to do something much more typical for the locals. Next stop was Circular Quay again to catch a ferry to Manly. Again the views from the ferry were great and Sophie must have taken a hundred photos on the 30 minute trip.
Manly is a superb place – everybody piles off the ferry and walks about half a mile straight down a row of shops and cafes to the beach. The atmosphere is how you'd imagine Blackpool to be if it were ever sunny and not full of drunken Scottish people, oh and generally much nicer. The place is only a short trip from the centre of Sydney, yet it's worlds away. Most of the people here are local to Sydney – it's not overwhelmed with tourists like Bondi – and that gives it a feeling of being rather more real.
We were tourists of course, so we managed to stick out beautifully. Obviously we were a little more pasty skinned than the locals. We were also the only ones who didn't realise that bringing bags of fish & chips onto the beach would attract seven legions of seagulls to our loungers. They were nice fish & chips though, and spraying seagulls with sand was reasonably amusing for a time.

Surfing? Don't I need a mouse???
The biggest thing that struck us about our first Australian beach was just how much more organised they are than in the UK. They do have to be of course, with the constant dangers of sharks, deadly jellyfish and monster rip-tides to worry about – not to mention the ravenous seagulls. There were lifeguards on duty in the main area of the beach, and they changed the area of shore they monitored depending on conditions. A few people were stung by 'blue-bottle' jellyfish while we were on the beach (nothing deadly, just mildly agonising for a time), so the lifeguards were treating people and making announcements over the tannoy to make sure everybody knew where they were etc. In the UK, you'd have been lucky if a passing tramp had agreed to pee on the sting.
After a spot of wave jumping, we watched a group of young locals have their after-school surfing lesson. Manly's a surfing mecca, and this looked a lot more fun than after-school piano lessons, that's for sure.
After a quick beer and ice-cream, we caught the ferry back to Circular Quay and a taxi to Darling Harbour. Here, we risked another multimedia experience and went to see a film in the IMAX cinema, boasting the "largest cinema screen in the world". It certainly was a very large screen, and that kept us enthralled for about 74 seconds of the film. The remaining 58 minutes and 46 seconds, though, were quite dull. We'd walked in and paid for whatever film was showing at as we didn't know what any of them were. This was a mistake. We saw a film called "Extreme", which was basically an arty look at extreme sports like surfing, skiing, etc. It was the kind of thing they often show muted in the background in pubs when nobody's really watching. The popcorn was greasy too, so the overall experience was rather disappointing. It wasn't just us either – the cinema has around 1000 seats, and there were bored expressions on the faces of every one of the other 8 people in there with us.
Much more entertaining was the fire juggler performing on the street outside. He was much cheaper too, at only ~100 baht for a 30 min show. We really must get used to these foreign currencies…
Monday 5th February
After a good night's sleep, our jet-lag was pretty much gone, so we headed off for the first job of the day – collecting the hire car. We didn't actually want it yet as we didn't want to pay for parking in Sydney, but it was actually several hundred dollars cheaper to hire it for a few more days than we needed it (who knows how they work out those prices). Luckily, the hire company let us keep the car in their garage for no charge – job done.
We began exploring Sydney. First we jumped a taxi down to Circular Quay, which is the central hub for all the water traffic around the harbour. Just close to here is a large Tourist centre, so we went and stocked up on leaflets – we love leaflets – to help us plan the next few days. Fully laden with enough leaflets to fill several large rubbish bins (we measured this later), we set off for our other cunning plan to get our bearings in the city: an open-top bus trip, the staple of any city-sightseeing tour.
Of course we had to sit on the top deck and, as usual, Sophie decided on the back row. This time it was a mistake. We couldn't actually hear the commentary as we drove around, so we have no idea what anything is around Sydney. We know where it is though, if we ever want to find out, so that's something. We were also too far back to leave the bus at one of the recommended landmarks – we were hoping for a pie from Harry's Café de Wheels in Woolloomooloo, but the bus driver had set off again before we got off our bums. D'oh! Maybe he thought we didn't need any more pies.
We did manage to escape the bus by the Opera House – mainly because everybody else was also getting off. And so, along with everyone else, we began our fascination with taking photographs of the Opera House and the Harbour Bridge (sometimes we got both landmarks in a single picture!). It's an amazing place, the trio of bridge, opera house and cityscape gave an almost infinite selection of angles at which to point the camera – each angle seemed to offer something new. No doubt they'll be exactly the same pictures everybody takes when they come here. But pictures weren't enough, we needed to get more involved – after a quick, overpriced lunch (a pie would have been much better), we headed off for a tour of the Opera House.
In this age of heightened awareness, it was no surprise that an iconic symbol like Sydney Opera House should be careful about security. They just go about it differently to everybody else. They were very strict about bags. No bag over a certain size was allowed on the tour. They weren't specific about the size, but they had highly trained tour staff who could instantly assess the cubic capacity of any given holdall, handbag, wheelie or rucksack and make a binding judgement one way or the other. Any bag deemed inappropriate had to be 'cloaked'. They still weren't searched, scanned, screened or scrutinised. They were just put on a shelf by the entrance. Hopefully there are no terrorists picking up tips here, but it seemed (to the untrained eye at least) that rucksacks got a bit of a raw deal here. There were certainly some ladies' handbags sneaking through which appeared rather roomier than their back-dwelling cousins. Anyhoo…
The Opera House was pretty big, and has several theatres inside, each of which typically hosts certain types of performance (ballet, opera, etc.). Unfortunately, we all had to agree (in muted tones) that it looked rather dated. It was built several decades ago, and hasn't really had a facelift since. Part of the problem may be that the original Danish architect (Mr Oosen) who won the competition to design the outside of the building was no longer involved when they came to design the inside. Instead they chose an Australian architect. He didn't seem to have the same kind of flair. In fact, we were told (by our bonkers guide) that he'd actually changed the intended shape of the auditorium to fit in a pipe organ of gargantuan proportions, because he quite fancied it. In doing so, he ruined the acoustics of the whole place! Oh well, that's probably not so important, at least there's a big organ if they ever want to sing hymns.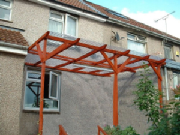 Opera House Eastern Boardwalk
Mr Oosen seems to have got his own back for the contractual falling out which led to him leaving the project. He was invited back to design an extension to the side of the Opera House just a few years ago. The extension was to open up the boardwalk and provide a terrace area for people to drink coffee, talk about the shows, and admire the view. Well, what to do when asked to extend an architectural masterpiece based on the natural curves of sea shells? He designed a lean-to. If you didn't know better, you might describe it as a car-port. It's just flat roof with a few supporting pillars. No remarkable features. No curves. No walls. Just a flat roof really. He probably got paid millions. Good on him.
All Opera'd out, we decided to take a stroll around the adjacent Royal Botanical Gardens. Actually, we intended to take a stroll but then they offered us the option of a tour by mini-train – how could we resist? We saw all kinds of flora, and a few bits of unexpected fauna, including quite a large number of bats hanging from the trees. We jumped off the train at the far end, as we were quite close to another landmark – Mrs McQuarrie's seat. Nothing too exciting really, it's just a nice place to sit on a rock and look at the Harbour Bridge and the Opera House. Except neither of those existed when Mrs McQuarrie's bum was warming the rock, so we're not sure exactly what she was looking at. Her photographs must have been so bland…
After a while, we took a leisurely stroll back to Circular Quay, and caught a ferry to
Darling
Harbour
. There are all kinds of tour companies selling cruises around
Sydney
Harbour
, but the ferries are just as good, and far cheaper. We got some more shots of the bridge and opera house, from slightly different angles, and then re-focused on somewhere for dinner. Perhaps we did still have a little jet-lag though, as Non spilled her drink everywhere. No sooner had the waiter cleared up, than Sophie spilled hers, and even managed to go one better by smashing the glass as well. Exit stage left.
Sunday 4th February
Seemingly to prove just how annoying they can be, BA woke everybody up at – about 90 minutes before we landed - in order to serve us cold, dry, squashed croissants. Really annoying. We landed in Sydney at around , after very little sleep, if any. Non had a mild panic at customs as they're very strict about not bringing any food into the country – Non had packed various sweets for the flight, raisins for Alice, a couple of bananas, etc. Sophie had also collected some coral from the Thai islands (also contraband), but we sneaked through. We picked up some local cash and SIM cards and jumped a taxi into town. Pete spent the majority of the journey into town not looking at the scenery, but arguing with Vodafone about why Non's phone didn't work with the new SIM card. Hrumph.
Surprisingly, our room wasn't ready at , so we dumped our luggage and went for a walk. Non had found apartments in a fantastic location, just a few minutes from Darling Harbour, so we headed there in search of some proper breakfast. We managed to choose the most expensive breakfast outlet in the harbour, but we did get bacon, sausages, scrambled eggs, English Breakfast tea and a great view of the harbour. This was more like it.
Darling
Harbour
is the
Sydney
equivalent of
Cardiff
Bay
. It was, relatively recently, a rather run-down area, but has had a lot of money invested and is now a beautiful harbour with lots of bars, restaurants, night clubs, etc. It also has a number of major tourist attractions, including the Sydney Aquarium. We thought the aquarium would be easy enough with jet-lag and so bought a combined ticket that also gave us entry to Wildlife World (around the corner) and the
Sydney
Tower
. Actually we didn't really save any money with the combined ticket, but we were too tired and befuddled to notice or care.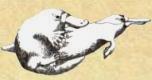 Platypuses or Platypii?
The aquarium was so impressive that Alice fell asleep almost immediately. Actually it was very good, we all enjoyed the platypuses (platypii??), and the sharks were amazing, although a little small. We paid particular attention at the crocodile and jelly fish sections, so now we know what we're looking for (not that either is particularly easy to spot in their natural environment). We did learn how to tell the difference between crocodiles and alligators (first correct answer on the guestbook gets some Chinese style pyjamas – age 2 only).
Sydney aquarium is a pretty big one (it's bigger than Maryport aquarium anyway), and they keep it fairly dark and warm. There's also an abundance of peaceful, soothing ocean sounds. Pete fell asleep twice; Non and Sophie fought it well, but they weren't going to last either. We headed back to the hotel – it was .
The apartment we had was pretty good, a single bedroom with a sofa-bed for the kids in the lounge. This wasn't made-up during the day, so we all jumped in the big bed and had a nice long siesta…
Semi-refreshed by tea-time, we got up and wandered down the road to Chinatown (how we made the decision to eat Chinese after just arriving from Asia, we're still not sure). It was only a short walk, again thanks to Non's excellent planning. We were hoping that we'd find crispy duck on the menu of the Chinese, as we'd not found it anywhere in Asia. Success! This was more like it. We splashed out on a bottle of wine to celebrate (all reassuringly cheap so close to the Hunter Valley). We ordered, and the waiter duly brought out the duck and did the old carving trick with his spoons. We were salivating. Bring it on…
The duck disappeared. He'd carved it, and then it went. He handed us 2 pre-rolled pancakes filled with duck skin only. The best meat headed back to the kitchen – help! The pancakes were okay, but we were a little disappointed to say the least. Eventually the rest of the duck came back – they'd mixed it in with some very dry, bland noodles, to create a rather boring pasta-like dish which successfully drowned any flavour or texture provided by the duck. Boo hoo! At least we learned another lesson – if you want good Chinese food, go to
Cardiff
Bay
.
Saturday 3rd February
Last day in Bangkok today, and we didn't bother to get up early as last night we'd discovered a restaurant down the road that served jugs of margaritas. The morning was spent packing (mostly by Non), building cinemas from cushions and sofas (mostly by Sophie and Alice), and experimenting with facial hair (mostly by Pete). There was also an amount of unpacking occurring, mostly by Alice, who enjoys nothing more than moving things from one bag to another, or from one bag to somewhere you might not look before leaving the apartment.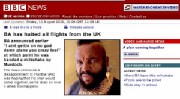 BA causes a lot of problems...
At the airport, Pete saw the huge queue for check-in and pushed in the business class queue. It helped, but it still took a long time as everybody ahead of us seemed to want to whinge about something. When it was our turn, we found out why – the airline (Qantas and/or BA) are obviously a bunch of muppets. They'd completely lost our booking, even though we had paper tickets to hand to them, even though we'd booked nearly 3 months previous, and even though we'd already flown 2 legs of the ticket. This presented 3 problems: 1. we may not get any seats on the plane, 2. we almost certainly wouldn't get seats together 3. we certainly wouldn't get the children's meals we'd requested.
We weren't happy bunnies, and we made sure they knew. Thankfully Pete had shaved off the moustache he was sporting briefly earlier this morning, otherwise nobody would have taken us seriously (although the very brief Hitler moustache may have at least scared them). Even when they eventually confirmed we could get seats on the plane (this much took about 10 minutes), the prospect of a 10 hour flight in seats spread around the plane was not a pleasant one. Initially they told us that there were only 2 seats together, plus 2 single seats in other areas of the plane. We told them that if that was all that was available we'd put the kids in the 2 seats together and let them suffer the consequences. Finally they at least found us 2 pairs of seats, although we still weren't happy.
On the plane, we luckily managed to talk some people into switching seats by offering them our window seat ("you'll get great views of Sydney Harbour!") so we did get to sit together in the end – no thanks to BA.
The flight was at a strange time, and the time difference of 3 hours made it difficult to adjust. By the time we'd had dinner it was approaching in Sydney. We all tried to watch a film after dinner, but it just isn't possible – keeping the kids happy takes more than just a film unfortunately. Sophie doesn't sleep well on planes, and stayed awake until Sydney time, so we knew we'd be in trouble the next day. Pete stayed up the whole night, which was potentially even more dangerous.
At about , Pete went through to the galley to stretch his legs and get some glasses of water. They also had a box of Roses chocolates, so he picked out a few of the nice ones (no nuts thanks) and took them back for the girls. About half an hour later, he took the empty glasses back and picked up a couple more chocolates. This time, the snotty camp air steward stood up from busily reading his newspaper and scolded Pete: "Those aren't for passengers, they're the crew's!". Pete: "Well you probably shouldn't leave them by the drinks then!" [Walks off with chocolates and BIG grin]. It didn't make up for them losing the booking, but it was a small poke in the eye for BA.
Friday 2nd February
Today, Uncle Dave had organised a special treat with some of his contacts in Bangkok – we were going fishing. There's a private lake just outside the city where you can rent a cabin for the day and try to catch some of the enormous fish that populate the lake. The day started off rather strangely, as we were picked up in a minivan from the hotel at and driven over half an hour to the flat of the guy who organises the trips – Francois. His wife met us outside the apartment block and took us up to the flat. Three walls of the main room were covered in pictures of Francois, or his friends, holding all kinds of fish. Surprisingly, some of the fish were quite small, but presumably they had some other significance to Francois (e.g. first trout caught using twiglets as bait). The fourth wall of Francois's flat was taken up the largest plasma screen ever seen outside an electronics shop display room – it was enormous – but to our dismay, there were no fishing programs.
Anyway, we had to pay Francois in cash up front, so his wife escorted us to the nearest ATM and then sent us on our way in the minivan. Soon after , we were sat in traffic on Sukhumvit Rd, less than half a mile from our hotel. This was rather annoying. We'd just sat in a minivan and crazed megalomaniac's flat for more than an hour, for no reason other than to give him his cash. It put us in a bit of a bad mood, and when we got to the lake, nobody seemed to speak to us – they just grunted a few times and motioned for us to follow them. We later learned that they spoke perfectly good English, but they weren't the most chatty of people. Our fishing guide for the day was called Nok, who eventually turned out to be a nice bloke as we slowly got him to speak to us over the course of the day.
All the bad moods were forgotten after about 20 minutes of fishing though, when we hooked our first fish. Nok was loading up the bait (big balls of soggy bread) and casting for us – i.e. he was doing everything while we drank Singha - but he gave us the rod if we got a nibble. Pete had the first go and was reeling in what must have been a 100kg monster for a good few minutes before it escaped (probably by snapping the line as it was sooo heavy!). Not to worry, we were encouraged by our early taste of success. Nok reloaded with another bread-bomb and launched it into the middle of the lake. This time it took about 10 minutes before we hooked another one, and Pete landed the first fish of the day – a 7kg catfish.

Soon after, Non had a great battle with, and finally pulled in, a 10kg catfish - it put up a hell of a fight. Non's highlight was being covered in fish slime when she held it up for the photo. We were having a great time. We all practised our casting on a little rod, which Alice loved reeling in again and again, and we ate lunch of chicken and rice in the cabin while fishing. It was lovely and relaxing.
Sophie had the best catches of the day through. She took the next fish and fought really hard with it – he was pulling out more line faster than she could reel it in, even with Pete helping her pull the rod. After she'd tired him out (and herself), she eventually got the fish close enough for Nok to land. She had to hold it a while longer though while Nok ran to get a special mat – she'd caught a big carp, which have huge scales that need to be protected. It was about 8 kg and a really good looking fish (if such a thing exists). After that, Sophie was hooked (sorry, excuse the pun), she wanted to reel in the next one too, and this one put up even more of a fight. Pete and Sophie pulling together were struggling to get him anywhere near the side. Many sore muscles later, he finally gave up. He was huge, about 24kg (53lb) and by far the biggest fish of the day.
After Sophie's monster fish, the big ones didn't seem to want to play, so we started using the smaller rod too.
Alice
won the competition for the most fish, as she reeled in about 7 or 8 little ones, without any help. Both the kids loved the fishing and wanted to go back the following day. When we get home, their rooms may be covered with fishy photos too…
Thursday 1st February
Today we had to leave Phuket, which was a bit sad. We've had a great time here – it was nice to spend time just sat by the pool, and we all enjoyed sailing around the smaller Thai islands. Also the hotel was the nicest we'll be staying in for the whole trip, so it's a shame to leave.
Getting a nice healthy tan
We negotiated a late checkout with the hotel as our flight wasn't until the early evening. After we'd packed everything up (which was quite a marathon), we went for our last day by the pool. Alice spent her time on the slide, and Sophie was learning to dive; both managed a few spectacular belly flops. Non and Pete did the typical British thing of reducing the sun cream factor for the last day in a vain attempt to gain a bit of colour.
The flight back to Bangkok was slightly delayed, but again the Thai Airways staff were great and let us board first because we had kids. The flight was only just over an hour so we hardly had time to distribute dolls, toys and pencils all over the cabin before we were landing. In Bangkok we were looking forward to returning to our fancy apartments where we stayed before – unfortunately, they put us in a rather poorer room, which was a fair bit smaller and didn't even have a mini-bar (this may have had something to do with us forgetting to tell them about all the stuff we'd drunk from the mini-bar when we checked out a week earlier – oops).
We didn't feel like venturing far for dinner, so we took a short taxi to the Suan Lum Night Bazaar and spent some time browsing around the market. None of the bags or chinese style pyjamas took our fancy tonight though. Sophie fulfilled a huge ambition from our previous visit tonight, when we went on the Big Wheel – we've seen big wheels in Hong Kong and Bangkok, but hadn't rodent them until tonight.
The last adventure of the day was the most frightening of the whole trip so far (even more than the Chiang Mai taxi and riding a charging elephant) – we grabbed a cheap tuk tuk back to the hotel and he was on a mission. He red-lined it the whole way back, and darted into whichever lane he thought may offer some marginal advantage – it was like a James Bond car chase. Probably our last tuk tuk ride.
Wednesday 31st January
We'd booked another trip for today – this time exploring the islands of Phang Nga (pronounced Pang Gar) by sea kayak. Thankfully, we didn't have to cover the whole distance by kayak – we were taken out in a large cruising boat – and even when in the kayaks we had somebody to paddle for us. This was the life.
The trip started with some general safety instructions mixed with japery from our lead guide, a guy called
Usa
. We then cruised out to the first island we'd explore by kayak. Non and Pete spent the whole time holding on to
Alice
as the safety rails were too widely spaced to keep her on the boat. Sophie spent the whole time laughing at
Usa
's practical jokes and slurping the 'free' fizzy orange drinks.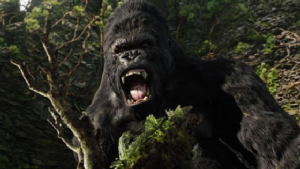 Kong: King of Phang Nga?
We weren't quite sure what to expect when we got in the kayaks and headed for the first cave. Our paddler had a headlamp to show us around inside, but it was still pretty spooky. There were all kinds of interestingly shaped stalactites and stalagmites, and there were hundreds of bats hanging upside-down from the cave roof. After 20-30 yds through the cave, we emerged into an amazing lagoon with steep rock walls all around, but loads of trees and other plants growing all over. Some of the trees grow directly out of the rock, while others (mangrove trees) grow out from under the sea water. It looked like a set from King Kong, and we floated about in a bit of a daze for quite a while trying to take it all in – it was really like nothing we'd ever seen before.
After another short trip on the larger boat, we headed for our second cave. This time the tunnel portion was over 100m long, so it was extra dark and extra spooky. The lagoon at the other end was again beautiful, and this time we were lucky enough to see monkeys (who live off shellfish) and 'walking-fish'. The walking-fish were great (we later learned they're known as mud-skippers) and we spent a bit of time watching them flapping along the mud and tree roots.
In the final cave we visited, we bumped into a local fisherman and the guides bought a fresh crab to cook for lunch. Sophie also had a go at paddling the boat, but we decided the professional may have to do it, otherwise we'd miss lunch completely. Lunch itself was quite impressive, seeing as it was all cooked on the boat while we were paddling about. There were about 7 different dishes, plus the special order crab, and we stuffed ourselves (letting other people paddle you about does make you hungry). They also had a big cool box full of beer, so we had one or two of those as well – just to be sociable.
The final stop of the day was just relaxing beach time. Actually, we suspected it was deliberately organised that way as our crew just happened to have an 'impromptu' soccer match against a rival crew when we got there. Other passengers decided to jump from the top of the big boat into the sea and swim to the shore. Sophie also decided this was a good idea. Non and Pete decided it probably wasn't in Sophie's best interests to jump 15 feet into a sea of unknown depth sporting decent sized waves.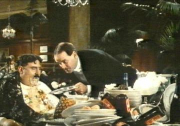 One more wafer thin mint?
After another strenuous day, we decided to eat in the hotel again. This time we opted for a buffet style restaurant. Wow! If only we'd found this one earlier! You could eat as much as you liked, and they had everything: Thai, Chinese, Indian, Italian, British (chips) and more. They also didn't charge for the kids, and they had a play area for when they got bored. This was our ideal restaurant. Pete had 2 starters, 3 main courses (small portions though!) and 3 desserts. There was only just room for the cheese course!
Tuesday 30th January
Pete began the day by shaving - for the first time in 6 weeks. It wasn't quite as drastic as it might have been though, as he decided it was 'goatie day'…
After yesterday's exertions, today was always going to be another relaxing day. We didn't rush to get out and then lazed by the pool all day. We were planning to have a big night out in the Blackpool of Phuket – Patong Beach this evening. However, the girls had booked some educational sessions for the afternoon. Non was having some SCUBA instruction, and the girls were learning Thai dancing.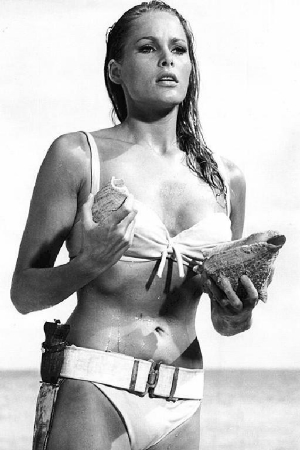 "Diving lesson anyone?"
Non's lesson looked quite fun – she got all kitted out, then 'buddied up' with the blonde instructor and jumped in the swimming pool. There, she proceeded to swim a few lengths underwater, with the blonde instructor on top of her! Pete decided SCUBA may be worth trying after all. Unfortunately, Non wasn't so keen on the whole thing so the diving career may have peaked in the deep end of the Marriott pool. Snorkelling seems a lot easier.
Sophie and Alice had their lesson in traditional Thai dancing in the kids' club of the hotel (a place they refused to visit for the remainder of our stay). Alice didn't enjoy it much as she was tired, so she played in the soft-play area instead. Sophie got really into the dancing though, and looked a natural by the end of the 30 minutes.
In the evening we jumped in a taxi for Patong, which took nearly 1 hour. We knew when we'd arrived because the place was heaving. Thousands of western tourists, hundreds of market stalls, hundreds of bars, restaurants, nightclubs, hotels, etc. It was a different world to the remote Marriott resort. We had 3 hours to take it all in while the taxi driver waited for us. After some quick nosh we explored some of the market stalls and made a couple of essential purchases: Non had discovered she's come to Phuket without a t-shirt(!), Pete had worn a hole in his shorts (!!), and Sophie needed her hair braided.
Alice
slept the whole time, in what is quite likely the noisiest place in
Thailand
.
Monday 29th January
Up early again for our speedboat trip. We got picked up from the hotel at and driven to a harbour on the east side of Phuket. There, the kids were kitted out with life-jackets and we boarded the speedboats. There were about 16 people on our boat altogether, and Sophie decided we'd sit at the back. This proved a wise decision as we were sailing against the waves on the way out and the boat bounces rather less at the back than the front. We did take the brunt of the spray, however, but we could handle that. Some of our fellow passengers weren't feeling too great though and decided the floor of the speedboat needed redecorating. Lovely.
We spent most of the outward journey looking for pirate ships (they do exist in the seas around Thailand) and treasure islands. We weren't sure about the treasure, but there are an enormous number of stunning little islands near the Thai coast. Most seem to stick straight up out of nowhere, with nothing else around them. They're made from limestone and most have quite similar features: tall cliffs most of the way around, caves carved out at the base by the sea (this results in a sort of overhang around the base of each island), and quite considerable flora on the top and on any slopes. A number of islands are also home to various interesting creatures, and some are inhabited by humans, despite them being tiny, quite remote (if you don't have a speedboat) and seemingly desolate.
Our first stop was the headline grabber: Phi Phi island (pronounced
pee pee
). This was the setting for the film The Beach starring Leonardo DiCaprio. Much like the film, it was a little disappointing (the book was in a different league). The island itself was beautiful, but it was suffering from that blight that spoils many beautiful places: humans - there were just too many of them. The tourist boats had to queue to get a space near the beach to let people off, and the beach was quite crowded. We thought this was a real shame – although we still really enjoyed it, if they controlled the numbers of people allowed per day, the whole experience would be very different.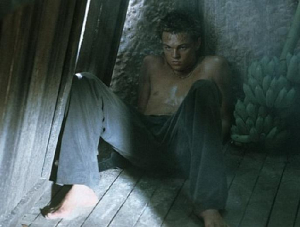 Leo filmed on Phi Phi for months
After nearly an hour on a bumpy speedboat, it was inevitable that most people wanted to visit the loo when we landed. We were told these were about 100 yds back from the beach down the Tsunami escape route (all beaches around Thailand now have signs showing which way to escape in case another tsunami should strike), so off we went, as did most other people from our boat and other boats alongside. As we got closer to the toilets we started to notice that there were people going off the main path and into the undergrowth – strange when we were so close to the toilets we thought. When we arrived at the toilet clearing though, all became clear. People were emerging from the toilet block saying things like "Animals" and "disgusting" – we weren't sure exactly what the problem was so Non went to investigate. Apparently the toilets resembled those at large summer festivals in the UK – the flush facility had not been working for some time. Sophie refused to use the bushes, so there was no option but to head back towards the beach, as most other people had before us. And that, kids, is how Phi Phi island gets its name.
Apparently, while filming The Beach, the production company re-structured the beach on Phi Phi and flattened it, which annoyed the locals considerably. Nature is a formidable opponent though, and the Boxing Day tsunami of 2004 put the beach back how it belonged. It was probably also the last time the toilets had a good flush.
The snorkelling in the sea off the beach didn't seem quite so appealing now but we went ahead anyway – it was great fun. The fish were amazing – really bright blues and yellows. Unfortunately there was something in the water (we were told but never understood its name) that gave a mild sting on your skin. Sophie and Alice didn't like it so they went back on the boat where they were looked after by the Captain, and given bottles of Pepsi – they were more than happy! Strangely, upon leaving the water and drying in the sun, the mild sting disappears.
For the remainder of the day we sailed between various different islands around Phi Phi and stopped off for snorkelling, lunch and beach-time. One of the highlights was a small, shallow cove where the fish ate bread from the kids hands, which they loved. Non and Pete did a bit more snorkelling and managed to be late back to the boat, but nobody seemed to mind – it was all very relaxed. Sophie and Alice made some friends on the drive back to the hotel – two young kids from Indonesia – and they made a hell of a racket and laughed uncontrollably the whole time. Quite impressive really, as none of them understood what the others were saying.
We were all exhausted by the time we got back to the hotel and decided that room service was in order this evening. The food was delicious. It would have been even nicer if it hadn't got slightly cold while the waiter titivated the dining table for 10 minutes to make everything look just right. The kids were in bed earlier than any other night on the holiday – about 9.30. Non and Pete didn't know what to do with themselves, so they wasted time writing this stupid website.
Sunday 28th January
Not much to report today. We decided to have a full day by the pool working on the old tans and doing nothing too strenuous. The one activity (other than sunbathing, reading and splashing about) that we participated in was actively not turning up to our 90 minute briefing session on timeshares. They were offering quite generous free gifts, but the weather was too nice to sit in a stuffy room and listen to sales b******t.
Non did visit the Tours desk and booked us one of the trips we'd chosen – Phi Phi island on speedboats for tomorrow. Nice.
In the evening we tried a different restaurant within the hotel. This time Sophie chose so we had Italian. The food was great, but Pete was a little disgruntled to notice that the kids menu offered tomato soup, while the full menu did not. After some quick pleading with the waiter, Pete was allowed to order adult portions from the kids menu, and had a big smile on his face. We also got to take leftover pizza home with us in a box – Non was planning snacks for tomorrow's trip.
Saturday 27th January
Today was a travel day and we needed to get up pretty early for our flight to Phuket. We grabbed a quick breakfast and headed straight to the airport. There, we discovered that everybody that travels on domestic flights in Thailand is actually foreign. A very rough guess would suggest that around 30% of travellers at the airport were British, 30% Australian and the remainder other nationalities (mainly European, but there were some big fat people from the states). This made the airport experience a little strange – it was like waiting for a charter flight to Majorca, except there was no 24-hour bar at which the Brits could embarrass themselves.
Actually there was no bar in the whole airport, and no shops in the departure lounge, save for 2 gift shops. It was a good job they had these – there must be hundreds of people who get to the airport every day and suddenly think, "Oh no, we're flying home today and I haven't seen anywhere in Thailand that sold complete and utter tat that I can give as presents. Praise Buddha, look! Two gift shops selling wooden ornaments and carved soaps at vastly inflated prices – we're saved!".
We used Thai Air for our internal flights in Thailand, and they were really good. They gave the kids special meals for kids (something British Airways couldn't manage), they called us to the front of the big queue at the gate because we were travelling with kids (something BA simply wouldn't do) and they have purple planes (something Alice was delighted about).
Non wasn't feeling too well on the plane (perhaps the Red Lion's food wasn't quite the haute cuisine we imagined), and there was a brief paper bag moment, but it passed. The kids played happily for the whole flight and it was agreed that it was a far better way to cross Thailand than by overnight Stalag train.
We found a taxi at the airport quickly enough (strange how that never seems difficult) and set off towards our nice posh hotel. Pete had accrued enough Reward Points from 20+ trips to the Marriott in Moscow to earn 5 free nights in a villa at the 5* Marriott Phuket Beach Resort. This was going to be our luxurious leg. Coming out of the airport, we saw the signs for the motorway pointing south towards Phuket town (main centre of population) and Patong (main centre for drunken westerners) where all the hotels are located. Our taxi driver turned north. Perhaps we should have investigated this hotel a little more before booking…? We kept going for about 20 minutes before arriving at the hotel, and we got the distinct impression that there was nothing else around. Oh dear.
Not to worry though, we were greeted with garlands of flowers and got the impression we were much too common to stay in this particular hotel. Just how we like it. It took some time to negotiate all the bell-people, reception staff, tour staff and timeshare sales-people (they sell the villas we were using on this basis) and finally we were taken to the room in a golf buggy. Actually, we went in 2 buggies, as Alice had fallen asleep in her pushchair listening to the timeshare people drone on, so she stayed in it and travelled in the luggage compartment on the back of the buggy while Pete held on to her.
The villa was impressive – 2 bedrooms, 2 bathrooms, kitchen, dining room, lounge, balcony and laundry. This was better than back-packing. We didn't hang about though – a quick change and down to the pool for some well-deserved sunshine and splashing about. The pool was huge (and warm), with a big slide for the kids. Pool porters fixed up the old sun loungers and brought complementary chilled water, ice lollies, cool water sprays and plates of fruit almost constantly. The weather was glorious (35oC) - this was the life.
As the sun went down over the Bay of Bengal we decided to explore the hotel a little further. Because there was nothing around the hotel, they provided a deli near the lobby. It sold everything you could need for a short stay, but the prices seemed to reflect a deli in London rather than Thailand. We stocked up on cereals and chocolate. Outside the deli there was the most bizarre bazaar we'd seen. It was like a 5* version of the markets we'd visited in other parts of Thailand, but in posh wooden stalls (probably hand carved). The ornaments looked pretty similar, but we suspected the prices were rather different and that haggling wouldn't be welcomed. We didn't see anyone buy anything. Actually we didn't see anyone working in the bazaar, they'd probably given up years ago and gone to sit on the beach.
For dinner we chose one of the 8 restaurants in the hotel – this one by the beach and specialising in seafood and steaks. The girls dressed up in posh dresses and Non put flowers in their hair (just to ensure they had an army of attentive waiting staff). As the hotel was free, we decided to splash out on some nice wine (actually we just did the usual trick of choosing one that sounded okay, but wasn't quite the cheapest on the wine list). Sophie really enjoyed the restaurant as she was given her own menu with check-boxes to choose what she wanted. We decided to let her do it all herself and she did really well. The waitress was a little surprised, however, when she ordered hot dog, spaghetti bolognese, chicken nuggets, chips, rice and pizza. Sophie didn't care – she was most excited because she got to choose a forbidden elixir: Pepsi.
When the bill came for dinner, we discovered that we'd spent half the
GDP
of Thailand. This place was expensive! For the price of this dinner we could have had 16 dinners at the first Thai restaurant we visited in
Bangkok
. Ouch. The salmon was nice though.
Friday 26th January
Today we considered a number of possibilities for trips in the area around Chiang Mai: giraffe women, who put extra rings around their necks to make them longer; beautiful waterfalls in the Doi Inthanon national park; a local village where they make umbrellas; various temples; etc. In the end, we just couldn't be bothered, and decided to have our first day of the holiday sat by the pool. This was a correct decision – it was nice not to have to spend time driving around, and also nice to have time to read a few pages of our books (in between very quick dips in what must have been the coldest pool this side of Antarctica). On our first day off sight-seeing, we decided we'd also allow ourselves some western food: hot dog and chips by the pool… yum.
Before dinner, Sophie got to watch Scooby Doo in Thai on the television. It didn't bother her in the slightest – she still stared at it intently for half an hour. To be fair, she probably knew all the English dialogue word for word as she's seen most of them so many times. Meanwhile Alice busied herself devouring 3 whole fruit of a kind we'd never seen before, and unfortunately can't name. She certainly liked it though!
Later, we wandered down the road to the Night Bazaar – a series of market stalls and small shops that open only in the evenings and sell an unbelievable amount of tat. There are some good things mixed in as well, but they do get quite repetitive: t-shirts, handbags, sunglasses, wooden ornaments, etc. The crowds though, were unbelievable – there were thousands of people fighting their way past each other to the next stall that sold even more Chinese style pyjamas. Most people seemed to be there for the experience rather than serious shopping (it's always good fun haggling over 20p for something you don't actually want) so we weren't sure how the vendors ever made any money.

Stevie G: popular in Thailand
We did buy a few things. Non and Sophie bought skirts, Alice had some of the afore-mentioned Chinese style pyjamas (cute!), Sophie got a set of magic rings to expand her conjuring repertoire, and Alice got the best thing of all. Much cuter than the Chinese style pyjamas - she had an England away kit, with a number 4 and GERRARD in gold on the back. Very cute. If the paparazzi following Alice were bad before, we hadn't seen nuthin like this! There were screams of glee wherever she went – everybody wanted to touch her. Steven Gerrard must be really popular in Chiang Mai.
As it was a day of lapsing, we had dinner in a pub called the Red Lion. The food was distinctly average, but even average Shepherds Pie tastes pretty good after a couple of weeks of rice and noodles. And they had Strongbow, a big screen showing golden oldie pop acts and photographs of the Liverpool team from their visit a couple of years ago. Heaven.
As we fought our way through the crowds and out of the night bazaar,
Alice
fell asleep again. She was now so cute that we had to escape the paps on a tuk tuk – paying 100 baht to be driven 150 yds back to our hotel.
Thursday 25th January
Today was the big day in Chiang Mai: the main reason we'd come here was to go on an elephant safari. We'd booked a trip with the hotel yesterday, and we were ready to go at (quite a feat for us). Unfortunately, the taxi wasn't, so we waited about 20 minutes for him to fill up with petrol. When we eventually got going he explained we'd now be too late for the first elephant 'show' at , so we may as well stop off somewhere on the way (you can't avoid the sneaking suspicion that perhaps the taxi drivers may be on some sort of commission plan…).
Our unplanned stop was an orchid and butterfly farm just outside Chiang Mai. There were hundreds of butterflies in a netted off room and they were quite happy to come close to the people. We did notice that the netting had a number of gaps in places so perhaps the butterfly population should have been a little higher than it was. There were also quite a large number of cocoons, which appeared to be made of dried leaves – is that how they do it? – but, like a number of these attractions in Thailand, there was no information or people around to explain it all to us.
The place was filled with beautiful orchids of all shapes, sizes and colours and the place was amazingly peaceful; particularly after the constant noise of Bangkok. Peaceful that is, until we arrived. We're really lucky that Sophie and Alice are amazingly well behaved kids, but when they don't get to bed on time, or if they get woken up too early, they aren't half moody (it's genetics)! So, the tranquillity of the orchid and butterfly farm was shattered for a few minutes before Pete took the little monsters to sit in the car while Non continued the tour.
When we arrived at the elephant park, the early show was just finishing and we spent a few minutes feeding bananas to elephants while we waited. Sophie and Alice were a bit reluctant at first when asked to sit on an elephant for photos, but finally they went for it and it was Sophie's highlight of the day. It's amazing how quietly elephants move around, we were taking photos of the kids on one of the paths down to the river, and both Pete and then Non were nearly trampled because they didn't hear the, rather large, elephant coming along behind them.
We watched all the elephants have a bath in the river before taking our seats in the grandstand for the long-awaited show. We expected this would be a bit boring, but after the initial lack-lustre tricks (pushing logs, walking around in a line holding each other's tails etc.) it was one of the most amazing things any of us had ever seen! They've trained the elephants to do all kinds of things, but the real highlights were in the fields of sport and the arts. Now, everybody knows elephants can't jump, so you might expect them to be not too good at anything that required intricate control over their legs. Wrong. Elephants can dance, and we've got video to prove it (granted, some of them were just head-banging but it's as much as a lot of us humans can manage). One of the elephants can also play football, and he's got one hell of a shot on them – if you put a red shirt on him, you couldn't tell him apart from Wayne Rooney! Not only can he shoot though, he can also flick a dead ball over his head with his trunk (is that like hand-ball??) and do a back-heel volley towards the goal. He didn't actually manage to score one of these from five attempts, but that makes him about as good as David Beckham. He could be the answer to Cardiff City's prayers…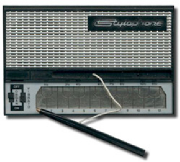 The Stylophone
The finale of the show was never going to be as good as back-heeled volleys, but it was astonishing. The elephants can paint. And we're not just talking putting emulsion on a wall, which many animals can do, even Pete. These elephants can paint pictures. One painted a landscape: a rather good rendition of the tree in the arena, with the two mountains in the background. The second preferred still-life and painted some rather pretty flowers. We decided they learnt their skills from watching Rolf Harris on the telly, because their pictures looked rubbish until the last minute – they added one final brush stroke and all of a sudden you could tell what it was. If these elephants could also learn to play the didgeridoo and wobble board, Rolf Harris could finally retire. Granted, they probably couldn't invent the Stylophone, but then they were crap.
Oh, by the way, when he'd finished his painting, the elephant who'd drawn flowers proceeded to write (yes, write) the word LOVE underneath. Gobsmacked. These elephants can write! We can now get rid of Wayne Rooney, David Beckham, Rolf Harris and Jeffrey Archer in one fell swoop. Why have we not seen this before? They'd be great on telly – just get them to write "Stop damaging the environment, you're killing us", or "Elephant.co.uk – for great deals on car insurance". Of course, that would be exploitation, and very wrong. Besides, they're already contracted to the elephant park – their paintings are for sale at £10 a go.
Next it was time for our elephant trek, so we climbed up to the mounting platforms. Sophie and Non tooke the first elephant, with Alice and Pete on the second – the race was on! Not much of a race really, more of a slow plod, but it was good fun. Alice particularly enjoyed herself, as she munched her way through a huge bag of crisps the whole time we were on it.
We went through rivers, up and down hills, through forests and were on there around an hour altogether. At various points along the trek there were platforms where you could buy the elephant bananas or sugar cane (another nice money making ruse). At the first one we thought we'd treat the elephant, but by the second we'd cottoned on and pleaded poverty. The woman on the platform gave him some nosh anyway. By the end of the trek, Alice and Pete's elephant was getting a bit moody: she kept refusing to walk and stopping to have a bit of a snack (often next to a scarily steep incline). In the end, the mahout (elephant keeper) had to get down and pull her along by her ear. The most unsettling point was when we had to cross a minor road to get to the final destination. The mahout dropped his ankus (elephant-pulling stick) and the elephant started to run to avoid a speeding 4WD. Aaargh! The mahout shat himself, but not quite as much as Pete! The elephant stopped of its own accord, which was lucky, because the mahout was losing the race by some distance. Surprisingly, Alice didn't fall asleep at this point, but she did enjoy it, and wanted the elephant to do it again. Pete disagreed. Sophie and Non laughed.
After descending from the elephants, the next trip was towards lunch, which was very welcome. The mode of transport, however, was not so welcome. We were going by oxen cart. Two scrawny looking oxen were pulling an old fashioned wooden cart (note: not carriage, this was definitely a cart) along dusty old tracks of packed dirt and exposed stone. We now know what travel in the olden days was like. It was bumpy and painful. Chiropractors must have done a roaring trade. We all said a silent thank you to John Dunlop and his incredible pneumatic tyre – in our opinion the most important advancement in modern transport, just nicking the title ahead of the sun-visor make-up mirror. In a superb touch of irony, Pete noticed how the braking system worked on the cart – it was a simple brake pad system, consisting of….. a section of a rubber car tyre. Stupid oxen: if only they hadn't chopped up their tyres for brake pads, they could have inflated them and saved us severe spinal trauma.
After a nice lunch by the river, and some rather less nice toilet facilities, we embarked on the final stage of our day's adventure: bamboo rafting. This was rather easier on the posterior and the spine than our previous modes of transport that day. It was also very relaxing. We could have sat there all day. We just cruised along for an hour on rather gently flowing water. We only got a couple of minor splashes on our feet, and they were quite refreshing. Altogether, a much more civilised form of transport, and a nice way to relax after a hectic day of adventuring.
Back in Chiang Mai, we opted for a restaurant recommended in our travel guidebook, and asked the hotel for directions. Mistake. They sent us in entirely the wrong direction, and then none of the taxi drivers could understand where we wanted to go. We ended up wandering around the suburbs rather lost. In the end, we managed to get a taxi to understand the name of our hotel and headed back there. About 100 yards before we got to the hotel, Non spotted the restaurant we were looking for – it was on the same road! We jumped out and dived into some great pasta dishes. Good save!
[Note on the stylophone: shocking news found on wikipedia when looking for a picture – allegedly Rolf Harris didn't invent the stylophone after all, he was just the face that made it such a success!]
Wednesday 24th January
Fortified only by cold fried eggs, we arrived in Chiang Mai rather bleary eyed. It was quite a shock to see that all the taxis were a bit like mini troop-carriers, but more colourful. After some quick negotiation, we chose a taxi driven by 'Toy' – a nice guy who showed us a whole book of his customer references. For example, "Toy is more than just a driver, he's become a part of the family". We weren't immediately sure we wanted to adopt him, but maybe with time he could be a rather distant cousin that we didn't keep in touch with. Anyway, we paid him 80 baht (£1) for a lift to the hotel, and that was without any family discount. The taxi drivers in Chiang Mai offer taxi rides as a sort of intro to their wider services: they're really interested in taking you on day trips to tourist sites.
At the hotel, our room wasn't quite ready (it was only ), so we asked Cousin Toy to take us for a trip to one of the local temples, situated on the top of a mountain. Phrathat Doi Suthep was built in the 14th century and is one of the most sacred temples as it houses the Lord Buddha's relics (we learned in Hong Kong that the Buddha set himself alight after reaching Nirvana and exploded into thousands of tiny parts – these relics are stored in temples around the world, a bit like the pieces of Jesus's crucifix in the Christian church. Most importantly, at the top of Suthep mountain, the temple offered us fantastic views over Chiang Mai.
The ride in the taxi was an adventure in itself. Cousin Toy drove without using the brake and paid no attention to lines on the road. We bounced around on wooden benches, banged our heads on the low ceiling with every bump in the road, and clung on so as not to fall out of the open back. Rather than enjoy the views, we spent our time trying to hold on to our stuff, and the kids. Alice fell asleep.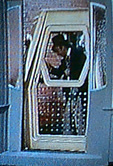 The Wonkavator
We drove most of the way up the mountain, but the last leg to reach the temple was via an 'inclinator' or 'single track funicular' – a lift that travels on a diagonal. We all secretly knew, from the original film of Willie Wonka & The Chocolate Factory, that the correct term for such a device is a 'Wonkavator'. We decided not to share this valuable information with the bald warrior monk that shared our Wonkavator – let him find his own path to enlightenment.
The temple was a pretty good one – we now have a critical eye – and as it didn't appear to have the largest Buddha replica in any valid bodily position, reclining or otherwise, they concentrated on interaction with guests: a smart piece of marketing. The main theme was bells: there were hundreds of them, and guests were encouraged to ring as many as they wished. Sophie rang every bell. She also banged an extremely large gong, which we thought would signal the approaching invasion of the Mongol horde, or at least send the bald warrior monks scuttling for dinner. But nothing happened.
Yet again our scenic view was thwarted by low cloud, but we have now seen some great cloudscapes around the world. This temple had also come up with a clever way to pay for their new roof – they sold bells. For 150 baht (£2), you could buy a small bell and write a message on it, then hang it somewhere around the temple courtyard. There were a lot of bells. However, judging by the rate at which these sold, they must recycle the bells every couple of months or so, or they'd run out of space. So, if you've always dreamt of seeing a small bell bearing the words "Sophie & Alice, 24.1.07", then you'd better get there soon.
Before heading back to the hotel Cousin Toy took us to a Jade Factory, where they gave us free tea (strange how that always works with us) and showed us a video about Jade production, which was almost interesting. We neglected to buy anything in the attached Jade Shop, although Non came quite close, and we headed back to the safari truck. Cousin Toy's driving on the way down the mountain was even more scary – still no brakes, much higher speeds and every opportunity taken to drive on the wrong side of the road. Alice fell asleep again.
We decided to pass on Cousin Toy's kind offer to drive us around for the few days we had in Chiang Mai, and resolved to book an air conditioned van with comfy seats instead.
When we finally got to our room, it was lovely: two balconies, a big bath and separate bedrooms for us and the kids. Most importantly, we also had free wireless internet - woo hoo! We spent the remainder of the day relaxing by the hotel pool, before dinner in a rather nice Thai/Indian restaurant that served the spiciest poppadums known to man.
Before dinner though, we'd noticed that Sophie had developed a rash on her arms and legs. It wasn't painful or itchy but was spreading and took the form of red rings. Non and Pete feared the worst – a case of ringworm would mean no swimming and lots of washing for the rest of the holiday. The NHS Direct website also seemed to suggest this was the most likely cause, so we called for a doctor. The doctor came and quickly reassured us that it wasn't ringowm and was caused only by an allergic reaction to something (we later decided it was probably the different washing powder we were using). The doctor charged us about £40 for some anti-histamine tablets and we breathed a huge sigh of relief. Little did we know – this was the worst possible outcome. Sophie had never taken a tablet before, and it turned out to be the biggest ordeal of the holiday. About 18 glasses of water later and the tablet wasn't going anywhere. Finally, after about an hour in the bathroom, the tablet disappeared (probably down the sink) and we all went to bed. Non told us later that she had anti-histamine cream in her bag all along…
Tuesday 23rd January
Despite our 57kg of luggage, it seems Non didn't bring quite enough clothes on our trip so we've been shopping on Sukhumvit Road. This is one of the main roads through Bangkok, and runs all the way to the border. It's lined, in different sections, by both designer shops (Louis Vuitton, DKNY, etc) and road-side stalls selling everything from crispy frogs on sticks to, erm, Louis Vuitton handbags at a rather lower price. Given the broad range on offer, Non headed straight to Marks & Spencer. Job done.
Still on Sukhumvit Road, and close to our apartment, is the Erawan Shrine. It's built outside a hotel that was constructed in the 1950's, but apparently suffered an inordinate amount of bad luck. The shrine was built to bring better fortune, and probably some much needed foot-traffic. Maybe if Little Chef had tried the same thing…
There's a troupe of Thai dancers stationed at the Erawan shrine and, if you make a 'significant donation', they'll perform a dance for you. We hung around long enough for someone else to make a significant donation and saw the show for free. It seems the amount of the donation corresponds to the number of dancers you get to perform. The donation we witnessed wasn't quite significant enough to get all the dancers on the floor: one of their number continued to read Hello magazine and look bored. Her friends all shared her facial expression, but at least they were getting some exercise.
Back at the apartment, we needed to check out as we were catching a train to Chiang Mai, in the north of Thailand. As we're returning to the same apartments in Bangkok in a week or so, we thought we'd leave some of our luggage to save us carting it around. Great idea in theory, but the maths didn't seem to work. We started with 3 bags' worth of stuff, took out a whole bag's worth of stuff and we still had 3 bags' worth of stuff left. Eventually we managed it, and headed off for the station, past the saluting security staff (a spot of cannon-fire wouldn't have gone amiss, but they were on a budget, and we were coming back in a week…).
We were early for the train and sat around in the station for a while. It was quite fun watching all the other travellers coming and going. There were a surprisingly large number of western travellers with big back-packs but, disappointingly, most were clean shaven - very poor show. Unsurprisingly, there were relatively few young western families with lots of suitcases.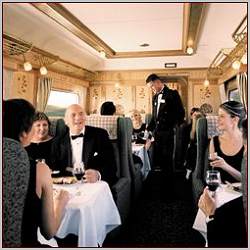 Dinner on the Chiang Mai Express?
Boarding the train was exciting – Non booked well in advance and had secured us two first-class sleeper cabins (the trip to Chiang Mai takes ~13 hours). As we climbed aboard, we thought of classic films and books set on sleeper trains like Murder on the Orient Express and North by Northwest – this would be an adventure, and we planned to do it in style.
It was only after we boarded that we started to think perhaps the ball-gown and dinner jacket were excessive. This was really brought home to us when there was no bone china or string quartet in the dinner carriage. In fact, there wasn't a dinner carriage, or even a buffet car. The waiter brought some cold rice and other inedible gunk to our cabin, and had the audacity to serve them on plastic crockery that had really seen better days. Everything was made better though, by some jumbo sized Singha beers, served from a bucket.
Sophie had been looking forward to this train journey for months, as she got to sleep in a bunk bed, on the top! We had adjoining cabins, so Non and Pete had some peace when the kids went to sleep. Pah! The kids hardly slept, they spent the whole night climbing up and down into each other's bunks, falling out of bed and wanting to go to the toilet. This wasn't fun anymore. Anyone who's used a toilet on a moving vehicle will know that it's no fun. Add to that a toilet which was previously used during the filming of Trainspotting and you'll begin to understand the scenario. Praise Jesus, Allah, the Divine Buddha and anyone else we've missed, because at least we didn't have to use the second toilet: 'the squat'. It's impossible to imagine a worse combination than a fast moving train, a bumpy old track, a squat toilet and the food they served up for dinner that night. [Note: it was impossible to imagine at the time, but an even worse combination miraculously arrived the following morning when they served cold fried eggs for breakfast]. Let's move on.
Monday 22nd January
Today we decided to try some more forms of transport and took the Skytrain down to the river, where we chartered a traditional long tail boat for a river tour. The river is really busy in Bangkok as it's used as a primary transport link by locals and tourists alike, with express ferry services running constantly up and down and back and forth, competing for space with barges and tugs and the numerous tourist cruisers.
Sophie and Alice loved the boat, and took loads of photographs. The boat trip took us off the main river and through the smaller waterways (part river, part canal), where we saw a different side to Bangkok. Lots of people live by or on the river here, and the run-down stilt houses were rather thought provoking. Kids were jumping in and out of the river to swim, as happy as kids swimming anywhere in the world, but here the river isn't exactly crystal clear.
We'd earlier decided not to bother going to a 'floating market', as we weren't really interested in buying provisions (the 7-Eleven down the road seemed rather more convenient), but we bumped into a few boats selling things. Before we knew what was happening, one floating vendor started filling our boat with all kinds of stuff, without us asking and without telling us what they cost. As politely as possible, we threw them back in her boat, but held on to a Singha beer for us and a Coke for the 'captain'. Our one additional purchase was a pink fan that folded out into a rather fine hat! Sophie just had to have it, and by then we were more interested in getting rid of the floating tat shop than we were arguing with her.
Once we'd plied her with a Coke, the captain became a bit more chatty – she pointed out things we didn't notice because we now had a Singha to concentrate on. First she spotted a large lizard, and then a large shoal of fish coming right to the surface to get bits of bread thrown by kids. Someone should have passed this particular angling tip onto the countless fishermen we saw sat along the river, seemingly having no luck.
Our first scheduled stop was a Crocodile / Snake Farm (which we'll conveniently forget when completing the Australian immigration form). The place was a bit grotty and probably wouldn't be on the RSPCA's Christmas card list, but hey: they had 2 tigers that barked very loudly when you went near their cage, a black bear that just sat, and a crocodile that was 15-20 feet long. Unfortunately for the crocodile, his living quarters were approx. 16-21 feet long, and we didn't get the impression he got out much.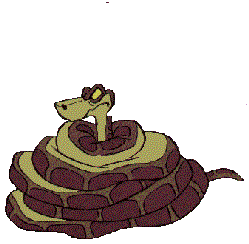 If he bites my head again...
The grand finale on our tour was a snake show in a small arena. As we took our seats (as far back as possible from the stage), we saw a little monkey dressed in a red dress. Cute, we thought, but he/she didn't play any part in the show and wasn't mentioned. Later we decided he/she was probably another guest, as it isn't just ladies that wear dresses in Bangkok. Oh yeah, the snakes were um, snake-like. They were quite real, and some were quite dangerous: at one point they 'milked' the venom from a viper into a glass. However, by far the scariest part of the show were the snake handlers themsleves. The first taunted the viper continuously, but dodged its attacks. The second had two snakes and proceeded to taunt the pair of them for a good few minutes, before picking one up by its head, using his teeth! These guys were nutters. Time to get back on the boat.
We'd spent so long staring at the poor animals that we were running late for our next stop. It didn't help that our boat seemed slower than every other boat we saw, or that the captain pulled over to sell some tat she had stored in the boat to another captain. In the end we had to almost run to get into Wat Arun (The Temple of Dawn) before it closed, but by now we were dab hands at temples and didn't waste any time. The temple itself was an impressive building, but we couldn't go inside, and the higher levels were also closed off, so we didn't need long to explore and get the requisite photos of people stood at the foot of the steps, etc.
After the boat dropped us back at Central Pier, we hopped on the train again to head home. In the train station, something very strange happened: everybody stopped. Every man, woman and child froze in mid step and didn't move. It was like science fiction. Somehow we'd managed to freeze time, but we could wander about as we pleased. Great! Apparently this is how Santa Claus manages to deliver so many presents in one night – imagine what we could do! Actually, we couldn't think of anything beyond looting the shopping centres, but given time we may have come up with something more worthy. In any case, we weren't in full control of our new powers as, after a minute or two, everyone started moving again as if nothing had happened. Very strange. Actually, Non worked it out before we embarrassed ourselves too much – in Thailand the national anthem is played twice a day in public areas and everybody stands as a mark of respect. Everybody that is, except us.
Sophie chose an Italian for dinner tonight, so we feasted on pizza and pasta for the first time in a week (seems much longer!). Sophie's front tooth also fell out, with some not-quite-gentle encouragement from Non, so we should find out soon if
Thailand
has tooth fairies.
Sunday 21st January
Non had picked up some provisions at the supermarket last night, so breakfast was self-catered in our swanky apartment. Continuing the traditional Thai food theme, we chose Frosties, as they have tigers in Thailand.
We'd decided, like most visitors to Bangkok, to visit the Grand Palace which is the former home of the King of Thailand and current home to the sacred Emerald Buddha. We'd worked out all the permutations of trains and river ferries to get there in great detail the night before. The taxi cost us £1. First stop was the changing rooms as you can't offend Buddha by showing shoulders or knees. We're not experts in the teachings of Buddha, but the idea of this enlightened individual being offended by such common, functional and aesthetically neutral joints seems strange. Anyway, Pete had to wear some silly brown pants over his shorts (which, incidentally, covered the knees in any case, but who's going to argue with a bald warrior monk?).
The Grand Palace was really impressive. We could understand why the Emerald Buddha wanted to move in when the king left – the place was dripping with gold and jewels - although they did need a new roof apparently. To enter the temple where the Emerald Buddha had set up house, we had to remove our shoes and were told to sit on the floor but not to point our feet towards the Buddha (a dislike of feet is altogether more understandable than shoulders and knees, especially Pete's feet). We were told that the king comes to the temple 3 times a year to watch a ceremony where the Buddha's coat is changed (apparently he has a wardrobe of 3). This must be the highlight of any monarch's calendar.
As it's royal, and possibly because Thailand just had a military coup, the Grand Palace is swarming with soldiers. They have sentries posted on the main buildings and, like at Buckingham Palace, they aren't allowed to move a muscle while on duty. Unlike Buckingham Palace, Bangkok is a sticky 35oC! They get bothered by all kinds of tourists taking photos but they never move, even in that heat. We held our collective breath as one brave kid ran up and touched the sentry's gun: he survived, but Non chickened out of pinching his bum. Sophie couldn't understand what all the fuss was about – he was only a plastic soldier after all…! Wasn't he?
A group of students asked Pete if they could interview him for their project, designed to practise English conversation (so Pete was a poor choice). Four students took turns in asking questions, while a fifth recorded the interview on a video camera. Everything seemed to be going well until one of the students mentioned he supported Man Utd. Hopefully they can edit out the new vocabulary they learned at that point.
Alice and Sophie were being hounded by the paps, so we beat a rapid retreat in a tuk-tuk and set off for the next stop on the tourist trail. We took a couple of photos of the tuk-tuk, and the biggest grin is definitely on the face of the driver. He'd just scored 100 baht (£1.30) to drive us about quarter of a mile as we'd failed to agree the fare in advance. Mrs tuk-tuk probably got flowers that night.
Wat Po is another temple / monastery compound, this time housing "the largest reclining Buddha replica in Thailand". So, there's probably a larger Buddha in Thailand that isn't reclining, and a larger reclining Buddha somewhere outside Thailand. In this case, I'm not sure Whitehaven is in the running. Anyway, he was a very big reclining Buddha – his feet were 5m long for a start, and his head was 15m tall. Who knows how they got him inside the building!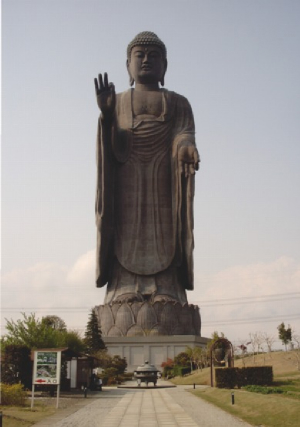 It's nice, but do you have anything a little bigger?
We'd pretty much had enough of Buddha for that day (in Hong Kong he'd taught us not to over-indulge), so we skipped the monastery section, grabbed a taxi back to the apartment and went for a dip. From the taxi we saw a number of shops selling Buddha replicas up to 6 feet tall – wow! – that is going to look great in our garden, and a great way for us to fund a new roof.
Night-time is when Bangkok comes alive, so with two small kids we had to be a bit careful where we went out for dinner. Another tourist favourite is the Night Bazaar, where shops and market stalls open just in the evening and there's a great selection of restaurants to choose from. A cultural highlight is The Joe Louis Theatre, home to the only surviving Thai Puppet Theatre Company. We were a little late for the show, but decided to eat in the attached restaurant and the girls met the puppets on a toilet trip (they met the puppets en-route, not in the toilet as all professional puppets make sure they go before every show).
The evening ended on a slight downer as Pete left his mobile in a taxi – never to be seen again. Not the end of the world though, and why should Bangkok be any different to Copenhagen, Barcelona, San Francisco, …?
Saturday 20th January
Travel day. Up bright and early to pack stuff and run to Starbucks for brekkie-to-go. We also picked up some trendy sunglasses we'd had altered with Sophie's prescription the night before. Didn't pause long over the transport decision and jumped in a taxi to the airport, bound for
Thailand
…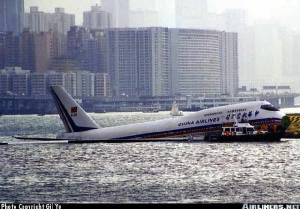 Landing at Kai Tak was quite tricky
The new airport in Hong Kong, Chek Lap Kok, is really well designed – it's big, but the distances don't seem too far to walk, and everything is well laid out. No doubt the feng shui gurus have been in. Incidentally, the runway is also well designed in that it's quite long and easily approachable - pretty fundamental you'd have thought. The old airport, Kai Tak, was located on the very edge of Kowloon island, with a runway about 8 yards long and an approach that required a steep descent towards a hill (!), before a hard turn at the last moment. They actually built a huge sign on the hill to remind pilots to turn! Needless to say, the landing was hair-raising, but it was certainly an experience.
We were so taken with the new airport, that we decided to contribute to its success by splashing out in duty free on essential items for the remainder of the trip: designer watches and sunglasses. Anyone would think we had an income!
On the plane, Pete had to sit apart from the 3 girls and was secretly looking forward to a few hours watching a film and reading his book. Unfortunately, the 4 or 5 hour flight Non had promised turned out to last only 2. Pete still hadn't bothered to read the itinerary. Equally unfortunately, the man sat next to Pete was that rare breed who falls asleep and snores the very second his arse hits an aeroplane seat. He also smelled, and slept with his elbows at right-angles rendering the TV controls in the armrest inaccessible. The kids were perfectly well behaved, so Non had by far the better deal in the end.
At Bangkok airport, the paparazzi had followed us – Alice was almost mobbed as we went through immigration – but we discovered that travelling with small kids does have some advantages when we were ushered to the front of a huge long queue, past hundreds of perplexed business travellers. No better feeling.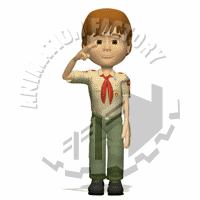 Sir, yes sir!
Non had found the Marriott apartments from endless scouring of TripAdvisor before we left. We weren't sure where they were, and neither was the taxi driver – how we laughed. Instead, we had an extended tour of the area, which seemed to be where most of the major foreign embassies are located. The Marriott was worth the wait – we had a 2 bed apartment and it was fully kitted out. The people in Thailand are always friendly, but the staff here are superb – from the moment we arrived they fussed over the kids and every time we saw them they'd shout "Hello Alice, Hello Sophie". Being given a full salute (including clicked heels) by the security staff whenever we walked past also gave the old ego a nice boost - no wonder evil dictators always look such jolly fellows!
We'd learned our lesson in Hong Kong and got a recommendation for a restaurant near the hotel, so that we could try some authentic Thai food. Sophie's favourite food at home recently has been Thai Green Curry, so we were on a mission to find the real thing. This wasn't exactly a Grail-like quest. Unlike Chicken Kiev, (which Ukrainians have never heard of), and Cumberland Sauce, (which is about as Cumbrian as the Queen), green curry is available everywhere in Bangkok. However, it was nothing like we have at home: it had the same flavour as the typical UK version, but the spice levels had been turned up quite a few notches, and almost blew poor Sophie's head off!
The best was yet to come. Local cable TV shows loads of Premiership matches live in
Asia
, so we got to watch
Liverpool
stuff the crumbling Chelski. As Little Pete says in his eponymously titled book, "That was another good day".
Friday 19th January
Today we went to see the 'Big Buddha' on Lantau Island. The easiest way to get there was via the very clean and efficient rail system. The station was 200yds from our hotel and, once we entered, we figured out how to buy tickets and where to go in slightly under 25 minutes, having ridden 13 escalators and asked 2 people. Not bad considering there were automated ticket machines (in English) everywhere and a grand total of 2 platforms: next to each other, one floor down from the entrance.
After the train journey, we took a cable car to Ngong Ping 360. It was still rather misty, so the views weren't as impressive as they should have been, which was a shame. However, it did mean that there weren't enormous queues and we got a car to ourselves. Actually, the Buddha statue looked really impressive through the mist, due to its sheer size and position on the top of a hill.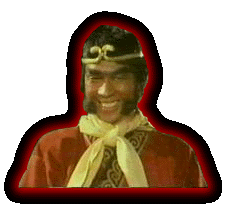 Born from an egg on a mountain top
Ngong Ping 360 is incredible: a very traditional Chinese village in the mountains, with the buildings seemingly taken from picture books, or the set of Monkey. One member of our party imagined they were Monkey, but nobody wanted to be Sandy, Pigsy or beautiful girl-priest Tripitaka, as they didn't know what Monkey was talking about. Cloud!
In the interests of keeping the Ngong Ping illusion alive, we didn't buy anything in the tat shops, and paused only very briefly in Starbucks, before winding our way out of the pre-moulded concrete village and off towards the Big Buddha. The Buddha is built atop a steep hill with some enormous steps to climb. If these weren't the steps featured in Kill Bill (see Uma Thurman in Rocky-like training sequence), they were certainly modelled on the Kill Bill set. At the foot of the steps, street vendors were showing us quite impressive photos of people stood at the foot of the steps and saying "30 dollars, 30 dollars, nice picture". We agreed they were lovely pictures but didn't buy any as they were all of people we didn't know.
More than 400 steps later (courtesy of Sophie 'The Count': "Two hundred and fourteen little steps, ha ha ha ha!"), we reached the top and it didn't disappoint. The view was fantastic – the mist had cleared and we had a great view of the countryside, village and monastery below. We also paid to go inside the Buddha, which was rubbish, but they promised us free dim sum in the monastery so we fell for it. You aren't allowed to touch the Buddha, so we all had a good grope along with everybody else before heading back down the steps.
The monastery was rather more authentic than the village, with bald warrior monks, who were able to dodge bullets and break steel girders with their heads. Well, they were bald anyway. Feeling a little giddy from the hundreds of enormous incense sticks (the size of firework rockets) burning outside, we went into the monastery to find some inner peace, and our dim sum. Feeling a bit tired after all the steps to Buddha, Non said she didn't fancy 12 more steps just to go into the 'shop'; it turned out that the most holy temple was worth the climb after all.
Included in our cable car tickets were 2 shows. The first was an animated story about 3 monkeys that demonstrated one of Buddha's most important teachings. None of us can remember what the teaching was, but the monkeys were funny! The second show was called "Walking with Buddha", so we weren't too keen as our feet were quite sore by now. However, it was really good – it told us all about the real man who attained nirvana to become Buddha. Really, he became 'a buddha', as anyone can achieve the same in theory. Pete had seen Nirvana at Reading Festival in 1992, so felt he had a head start. Anyway, the essence of Buddhism appears to lie in the 'middle way' that Buddha discovered: he was born into riches, then spurned them and almost starved himself to death in his search for the inner self. So, according to Buddha, you shouldn't seek riches, nor should you totally abstain and suffer. We've not quite worked out yet why all Buddhist temples are dripping with gold and jewels, and put a lot of effort into collecting donations for new roofs. Hey hoo.
After a day of spiritualism, it was perhaps slightly surprising that we learned our most important lesson back in Kowloon that evening: "Those who do not request recommendation, end up in crappy restaurant".
Thursday 18th January
First full day. The morning involved crossing the harbour on the Star Ferry (35p for a family of four - and they charge £5.10 to drive over the Severn Bridge!), and searching for the right bus to take us to The Peak Tram terminus. We gave up on the bus as the driver went for a wee while we stood in a crowd of people trying not to look like tourists, all of us nervously fiddling with our cameras and backpacks. Feeling flush, we splashed out on a taxi (£1.20).
The tram was impressively steep and the views at the top were superb, even though it was rather overcast. Lunch in a tourist trap (with a Forrest Gump theme!?), then back down the hill in a tram carriage with approximately one quarter of the population of China pushing past to get the best seats. Non had done her homework though and we were in pole position for the views (the right-hand side if you ever go there).
Non fancied Stanley in the south of Hong Kong island, (it's a place, not a bloke apparently) so we briefly considered hunting for another bus. Inevitably, we jumped in a taxi not 5 yards from the tram exit. Stanley market was full of the usual tat you get in Asia - copy watches, handbags, retina-burning sunglasses, etc. To be fair, the taxi driver had warned us that it was no good for shopping - he preferred Ladies' Market in Kowloon, which certainly sounds better than Lady Boy Market in Bangkok.
Almost everybody here is fascinated by the kids - several people actually asked if they could take photos. Non has decided to charge $1 - they may as well contirbute to the trip! Actually managed to find a bus to get back to Central, but it was expensive: £1.30 for 4, and we only went 20km! They also drive like nutters - Alice did a bowling ball impression down the aisle of the upper deck during one severe braking manoeuvre.

Not tonight love, I'm stuffed
Tonight we watched the laser show from a Star Ferry harbour cruise, before heading back to Kowloon. Quick change and straight out for dinner at a great Szechuan restaurant - lots of chilli dishes - where Sophie and Alice managed to show up their dad by being instantly expert in The Way of the Chopstick. Alice was also expert at chair diving - a little known sport that involves leaning just a little bit too far when reaching for something across the table. This attracted a surprisingly large crowd of restaurant staff and resulted in some free tat for the kids. They perhaps suspected we were American chair divers carrying lawsuits for badly designed chairs (the seat facility being vertically elevated in excess of 2 inches from the floor, thus introducing users to severe risk of gravitationally induced trauma).
We also learned how to say "thank you" in Cantonese. I say learned. Actually we enquired, heard it pronounced, each tried a couple of vague mumbles, and promptly forgot again. Tomorrow we aim to learn "Hello" and "Excuse me, my daughter appears to have fallen down in your restaurant/hotel/tram/ship/bus, would you mind giving her some free tat to stop her crying?".
All in all, quite a busy day, with plenty of amazing sights. Sophie's highlight? Room-service breakfast.
Wednesday 17th January
Arrive in Hong Kong. After a 12 hour flight nearly halfway around the world, it turns out that Hong Kong is a lot like Wales: it's raining, the people are a little bit short, and they speak funny. Further fascinating cultural insights to follow...
Hotel is great - we're on Kowloon and have a harbour view. At least we think they said "harbour view" when we checked in. "Half a view" would have been more accurate as someone has very rudely built something between us and the water. No wonder all the buildings are so tall, they have to be in order to see past the latest one built in front of them.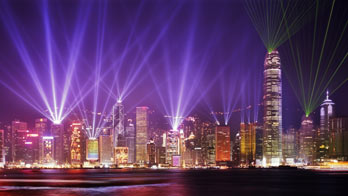 Not quite as impressive as The Wave
Watched the "Symphony of Lights" from the bedroom window - an impressive laser show from various buildings around the harbour set to music (which you tune into on your radio). We were all suitably impressed. The Guinness Book of World Records has bestowed upon it the grand title of the "largest permanent light show in the world" (or something). Notice they had to insert "permanent" in that title. Somewhere, there is a semi-permanent show that's bigger and better. And we think we know where it is: The Wave in Whitehaven harbour. If only they could stop people nicking the fluorescent tubes, Whitehaven could be vying with Hong Kong for the world title!
Tuesday 16th January
All done. Spare pants removed, and we're ready to go. It turns out you need precisely 57kg of hold luggage to travel around the world. Not to mention the ~20kg of hand luggage.
Top 3 Surprises of the day:
Train to London was delayed ("animals on the line").
Pete managed to lead everybody to the wrong terminal at Heathrow because he couldn't be bothered to read the itinerary.
Separately or together, we clocked up 362 toilet visits. Most were false alarms
Monday 15th January
24 hours to go. Yikes. Time to stuff everything into a couple of bags. Or three bags. Big bags. Maybe not. Perhaps we don't need spare pants?
Sunday 14th January
The trip's been several months in the planning, but with less than 48 hours to go before we fly, we're sat on the sofa researching Australia by watching "Priscilla, Queen of the Desert". And it's a good a job we are - it seems the clothes worn in Oz are rather different than we thought. Good job we haven't packed yet.
Copyright 2007 - NAPS R US